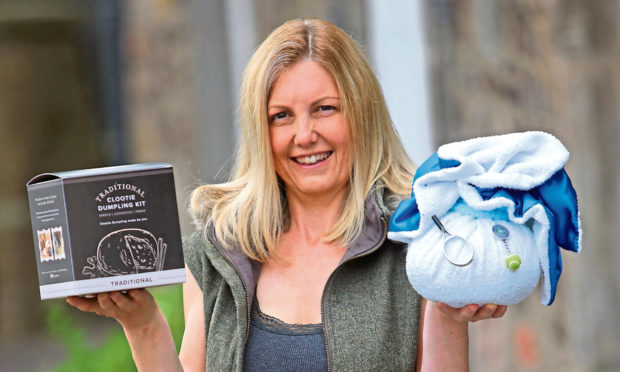 A young Perthshire business is on the boil after securing more than £20,000 from the Rural Perth and Kinross LEADER Programme.
Abernethy-based traditional Scottish dumpling maker Clootie McToot will use the funding to enhance their premises with a large commercial viewing kitchen – enabling the firm to increase production capacity and recruit more staff.
The new set-up will also allow the firm, which opened its Main Street shop in April 2017, offer demonstrations and workshops on how to make the iconic Scottish delicacy.
Founder Michelle Maddox said the business had rapidly gone from strength to strength.
She said: "Since starting the business, we have had two grants, but essentially we have self-funded the venture with around £150,000 and we've done a lot of the work in the premises ourselves, re-using the original materials wherever possible.
"All of the money we have made so far has been reinvested back into the business, which has allowed us to keep moving forward in the way we have.
"So far, our main market has been local customers, festivals and farmers markets, but with the new facilities opening, we hope to attract bus tours, and it would be great to see our clootie kits in stores, so commercial is the next step for us.
"Our ethos is to use traditional recipes with fresh, locally sourced produce.
"We have actually turned down some big contracts because they wanted a longer shelf-life that could only be achieved by using preservatives, which is something that we won't do."
From a standing start, the company now has four employees, with plans to take on up to three more by October.
The clootie dumpling recipe was first published in 1747, but variations have emerged reflecting different circumstances.
The recipe used by Clootie McToot is low in sugar and high in fruit and stems from World War II when sugar was in short supply.
Ms Maddox said that there was a growing appreciation of artisan, luxury style food, and that while some people might not see dumpling as a luxury food, it takes a lot of time to prepare and make one.
She said: "For example, the fruit we use can be steeped in whisky for four weeks and a dumpling goes through a number of processes before it is ready.
"The recipe never gets stale as we can change things by using different fruits, and if for example, rum becomes fashionable, we can use that as well."
The firm aims to have the new kitchen open in October.
jimillar@thecourier.co.uk