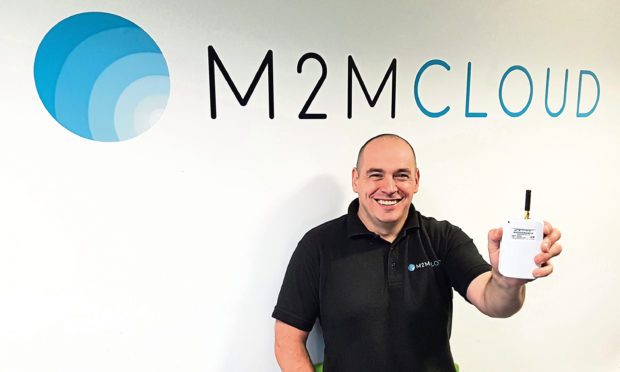 A Dundee software developer has won its first public sector contract and been flooded with enquiries after developing unique water-monitoring technology.
M2M Cloud's Neptune system attaches sensors to the surface of pipes which supply temperature readings every 10 seconds and give notifications if the water system poses a risk of developing harmful bacteria such as legionella.
The Dundee Technology Park firm has secured a competitively tendered three-year agreement to supply sensors to more than 100 Highland Council buildings.
Under the council's previous system, engineers had to travel to sites, take temperatures manually on a monthly basis, and log the results on return – an expensive and time-consuming process.
Scott Edgar, operations director at M2M Cloud, said the potential was vast for the system.
He said: "I've never known a time like it in my 20 years in the software development industry – we've been almost overwhelmed by the demand for what Neptune can offer.
"Neptune helps ensure a water system is compliant and also helps with planned preventative maintenance schemes.
"The technology can also help organisations react quicker to problems and target resources to the right place saving time and money, while lowering carbon emissions. The market is potentially vast.
"The product has helped us win our first public sector tender, which has given us huge encouragement.
"It has also given us a brand new revenue stream and will be a key part of our business in the months and years ahead."
The 'internet of things' (IoT) technology is one of the first commercial products to use the new national IoT Scotland network.
Data captured by the devices is transferred over the LoRa-based network to a central point for analysis every 15 minutes, which can then be viewed on a mobile phone or other device.
The Dundee firm has entered a partnership with Dart Valley Systems – part of the multi-national Franke Group UK – to manage demand, assist with installation and boost marketing.
"This partnership will help us make the most of Neptune's potential value to the business," Mr Edgar added.
"We're already looking at added functionality, incorporating data analytics and machine learning."
M2M Cloud built the technology following the success of an initial proof of concept project developed by CENSIS – the Glasgow-based centre of excellence for sensor and imaging systems technology.
rmclaren@thecourier.co.uk