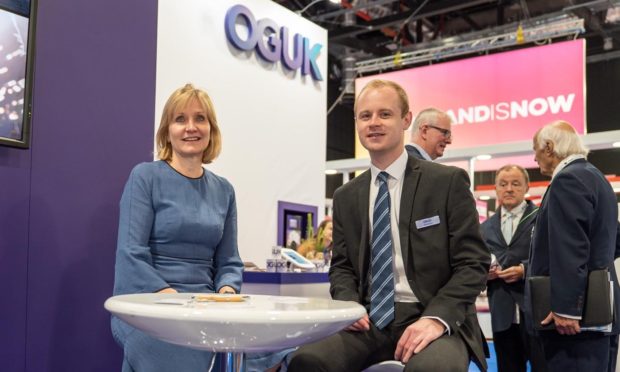 The UK's offshore oil and gas industry has outlined the "vital" role it has to play in the UK and Scottish governments meeting targets for net-zero emissions.
Oil and Gas UK (OGUK) will launch its annual economic report at the Offshore Europe conference in Aberdeen today, which sets out a blueprint of how carbon emissions can be reduced.
The roadmap is one of the first major industrial responses to government plans to reduce or offset carbon emissions to net zero by 2050 in the UK and 2045 in Scotland.
The trade association said offshore oil and gas industry currently meets 45% of the UK's overall energy needs and will continue to be part of the UK's energy mix securing energy security for "decades to come".
The blueprint includes coordinating activities to reduce emissions from the production of oil and gas and sets out how the UK oil and gas industry can develop and commercialise low carbon technologies including carbon capture usage and storage and hydrogen.
The report follows an announcement yesterday that a £50 million centre aimed at making the UK North Sea the world's first decarbonised oil and gas region is to be created in Aberdeen.
The Net Zero Solution Centre will be based at the Oil and Gas Technology Centre to develop new innovations to remove emissions from the industry.
OGUK chief executive Deirdre Michie said: "While we don't have all the answers to the big challenges we face, we have started work on what we know can be done.
"We are ready to work with others in developing some of the new solutions the UK needs, and the Net Zero Solutions Centre is a great example of this.
"The facts outlined in our report evidence that our industry remains a vital economic asset and is uniquely positioned to help the UK meet its net-zero ambitions and energy needs in the years to come.
"We now need a comprehensive UK energy strategy which recognises the continued role of oil and gas in a diverse energy mix and positions us to support net zero."
Ms Michie said that many of OGUK's members were already playing an active role in the transition to a more diverse energy mix by investing in renewables, developing new technologies and bringing new solutions to market.
Around 36,000 people are expected to attend this year's four day Offshore Europe conference and exhibition, which started at P&J Live in Aberdeen, yesterday.
rmclaren@thecourier.co.uk