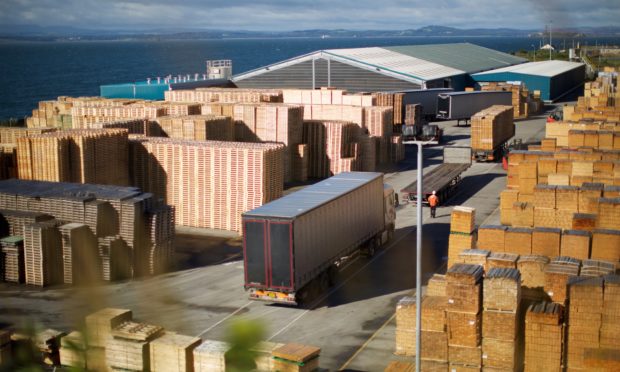 Fife firm Scott Timber saw its sales increase by more than £20 million last year as demand for wooden pallets remained strong.
Headquartered at Halbeath outside Dunfermline, the major Kingdom employer produces around 16.5 million new pallets every year.
It is also a national supplier and buyer of second hand pallets, with annual sales of 14 million reconditioned pallets.
Newly filed accounts show Scott Timber's sales rose from £87.4m in 2017 to £108.8m for the year ending December 31 2018. Pre-tax profits rose by 32% to £7.1m.
Director Norman Scott said last year's results had been boosted by the full-year contribution from 2017 acquisitions Pallet Logistics and South Yorkshire pallet firm Whirlowdale Trading Company which had added to sales and also delivered a "number of synergies and operational efficiencies".
"The integration of these businesses into the group has gone extremely well delivering operational efficiencies that assisted in growing profit before tax to 4.47% of sales turnover," he said in his strategic report.
"In a repeat of 2017, timber prices continued to rise and availability remained tight although by the end of the year there was some evidence of increased availability and an easing on price.
"Availability of reconditioned pallets remained tight throughout the year."
Scott Timber acquired Grimsby-based Watson Pallets at the start of this year which should add around £10m sales a year.
Mr Scott said the availability of sawn timber had improved considerably this year.
"Prices have fallen back a little but current stubbornly high UK log prices have prevented a bigger price drop," he said.
"Issues of availability continue to challenge the reconditioned pallet business unit.
"Activity levels are generally good and overall the outlook is considered positive."
Separately filed accounts for parent company Scott Group Investments Limited – which also owns the Scott Direct business which provides industrial workwear and tools – showed group sales increased from £148.7m in 2017 to £174.6m at the year end. Pre-tax profits increased from £6.2m to £7.8m.
Mr Scott added: "The group continues to maintain a strong balance sheet, with net assets of £15.7m and remains well positioned to finance future trading, growth and acquisitions."
rmclaren@thecourier.co.uk