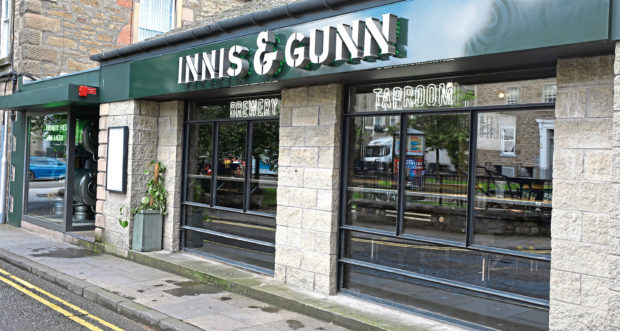 Craft brewer Innis & Gunn, have shrugged off a pre-tax loss of more than £1 million as the company toasted its 15th consecutive year of double-digit sales growth.
The Edinburgh-headquartered firm, known for its whisky barrel aged beers, purchased the Inveralmond Brewery on the outskirts of Perth in 2016.
Accounts for the year ending December 31 2018, show an increase in turnover from £19.1m in 2017, to £21.3m last year.
Despite a gross profit of £7.3m, a fall of 4% on the previous year, distribution costs, administrative expenses and interest payments took the firm to a pre-tax loss of £1.2m.
In the strategic report, founder and master brewer Dougal Gunn Sharp highlighted international restructuring for the firm, as well as strong growth in the UK across the on and off sectors.
Internationally, the firm continues to search for new markets, while Canada remains biggest export sector for the company and delivered significant growth.
The challenging USA market saw the firm pull-back from some areas as well as discontinuing a draught business in the country.
The firm restructured its business in France, moving away from a joint venture and redeveloping its supply chain.
A significant development for the firm is the construction of its own brewery.
Mr Sharp said: "Our strategy since 2003 has been to brew in breweries that belong to others.
"We did this because it allowed us to be completely focussed on developing our brand at home and overseas.
"During 2018, we undertook a strategic review of our whole brewing operation and in particular the outsourced elements of it.
"This review revealed the full extent of the business benefit to be gained by building and operating our own full-scale brewery.
"We announced our plans to build the Innis & Gunn brewery in Edinburgh at our AGM and I am glad to say that we are well on the way to having it built."
The firm aims to open the facility early in 2021.
Marketing continues to be a key area of investment for the company with a spend of £2m last year.
Mr Sharp concluded: "2018 was a year in which we used our balance sheet strength to prepare for the future."
In January last year, the Innis & Gunn Inveralmond Brewery Limited transferred its whole trade, assets and liabilities to Innis & Gunn Brewing Limited as an intercompany transaction.
jimillar@thecourier.co.uk