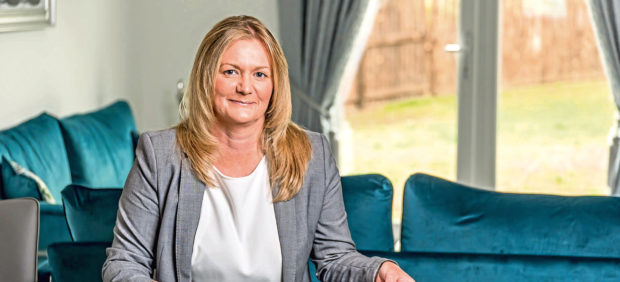 Carnoustie-based housebuilder DJ Laing Homes has established a land bank for the next decade on the back of strong sales for its latest Dundee development.
Managing director Karen Nicoll said demand was strong in Dundee where the opening of the V&A and economic regeneration had boosted confidence.
The construction firm is currently delivering its Castle View development of 97 homes in the Ballumbie area of Dundee.
Ms Nicoll said DJ Laing Homes – part of the DJ Laing Group which last year had sales of almost £10 million – had established a 10-year land bank with a plan to deliver around 30 homes a year.
"We have a healthy land bank, certainly enough to keep building homes for the next 10 years, which is a good position to be in." she said.
"It takes careful timing to avoid having gaps in the construction schedule, as planning applications can take nine months or longer, but efforts are being made to improve this by Angus Council.
"We are a family business and our focus remains in the local area and we have a target of constructing 30 homes per year.
"We can build more, but we find that 30 allows us to keep our construction standards high as we employ the same team and give local sub-contractors the opportunity to work on each project."
DJ Laing Homes, which has 80 staff, recently worked with Angus Housing Association to providing 74 affordable homes in Carnoustie.
The firm's future vision includes a 24 acre business park and 274 homes at the Upper Victoria/Pitskelly area of Carnoustie.
It also hopes to regenerate Panmure Industrial Estate into luxury apartments overlooking Carnoustie Golf Links.
Ms Nicoll said Brexit has not had an impact on the business beyond consumer general uncertainty, with the firm "insulated to a degree".
DJ Laing diversified into the housebuilding sector in 1986 with an initial project of refurbishing two cottages in Angus.
The company's largest development to date was at Ballumbie in Dundee where 223 homes were built from 1999 to 2012. It recently handed over its 700th property at their Malt Loan Site in Carnoustie.
Ms Nicoll added: "The Help to Buy scheme, which sees first time buyers recieve help to get on the property ladder is working.
"Young people often can't afford the deposit for a home, but can afford the monthly payments, so it is getting them on the property ladder.
"Our 700th home marks an important achievement in our history of producing high quality new homes."
The DJ Laing Group also includes a civil engineering arm.
jimillar@thecourier.co.uk