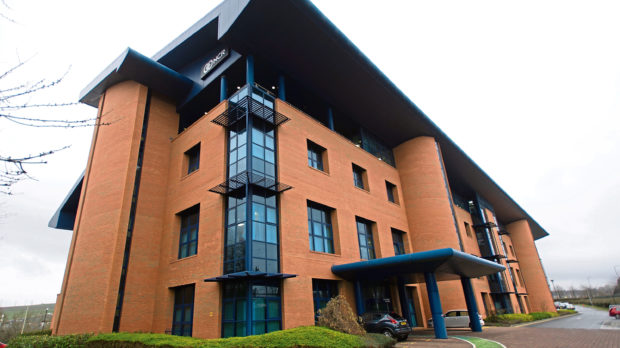 The UK arm of cashpoint manufacturing giant NCR has recorded a fall in pre-tax profits of 71%.
The firm has a substantial base at Kingsway West in Dundee, where research and development takes place, including testing equipment in simulated hostile weather conditions.
Profits before tax slumped from £13.2 million in 2017 to £3.8m for the year ending 31 December 2018.
Turnover also fell from £250.8m in 2017, to £195.1m last year, a fall of 22.1%.
The drop has been attributed in large part to product life-cycles with significant customers.
Director Caroline Kee warned that if the firm does not compete effectively within the technology industry "we will not be successful."
She said: "We operate in the intensely competitive information technology industry.
"This industry is characterised by rapidly changing technology, evolving industry standards, frequent new product introductions, price and cost reductions and increasingly greater commoditisation of products, making differentiation difficult."
The company makes a range of ATMs and other financial products with a particular focus on retail banking and bank branch transformation, as well as a growing payments fraud solutions business.
NCR also provides POS and self-service kiosk products for a range of industries including grocery and supermarket, garage forecourt and hospitality sectors.
More than 500 NCR employees are based in Dundee. Overall staff numbers fell by almost 5% to 1,211 last year with 1,058 employed in engineering and technical support, 97 in sales, with 56 engaged in management and administrative roles.
Staff costs fell from £68.2m in 2017, to £66.3m last year.
Ms Kee added: "If we are unsuccessful in transforming our business model, our operating results could be negatively impacted."
"We have established a focussed and consistent business strategy targeted at turnover growth, gross margin expansion, improved customer loyalty and employee engagement."
The firm seeks to deliver its strategy via disruptive innovation, a focus on moving turnover to higher margin software and recurring services revenue and utilising a more consultative sales model .
Last year, the firm acquired Radiant Systems (UK), along with a subsidiary of the firm for a consideration of £705,000.
jimillar@thecourier.co.uk