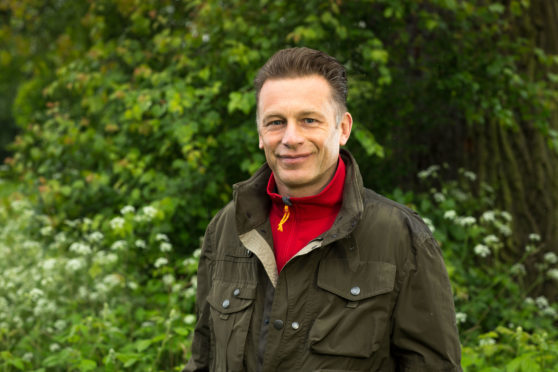 Autumnwatch host Chris Packham has called for tighter legislation to protect wild beavers in Scotland.
The conservationist said he was "dismayed" that the animals were still being killed in the River Tay, and suggested landowners were being allowed to use loopholes to get around recent Scottish Government legislation.
Beavers were given protected status this summer, following their successful reintroduction north of the border. The move makes it illegal to kill them or destroy established dams, but landowners can still apply to Scottish Natural Heritage (SNH) for "lethal control licences."
Speaking ahead of a live show in Perth next month, the BBC presenter said: "The Scottish Government gave beavers protected status, but they also empowered SNH to facilitate a cull on the same day.
"There has been repeated meetings with landowners about how they can get a licence to cull beavers, and it appears to me that not all of those licences have been granted under scrutiny to prove that these beavers have been seen to be causing damage to human interests.
"Until those loopholes are closed, we are not going to sleep happily at night as conservationists, because we know that these animals can be a great asset."
He criticised NFU Scotland for spreading "misinformation" about beavers, saying he had a conversation with a landowner in Scotland a few years ago who was complaining that the creatures, which are herbivores, were eating his fish.
"We have – I hope – moved on from there and I'm sure no landowners continue to believe things like that," he said.
"But they are still not aware of how these animals can be  great advantage."
Mr Packham insisted he did not want to be too critical of the Scottish Government and SNH, adding: "When you compare it with the situation in England, at least Scotland has beavers."
The naturalist will host his Pictures From the Edge of the World show at Perth Concert Hall on December 17.
The first part of the show will focus on his wildlife photography, including pictures taken around Scotland. The second half will look at conservation and encourage people to consider steps they can take to care for the environment.
"There are many things we can do that will make a difference," said Mr Packham. "We should be thinking more about our food and where it comes from. And we need to think about the way we travel.
"I will be giving up internal flights in the UK – they are cheap and convenient, but they generate a huge amount of carbon.
"I've got one internal flight left, up to Scotland in December. It was booked by a charity and I intend to make a celebration of the fact that this will be my last internal flight."
Responding to his comments, NFU Scotland Director of Policy Jonnie Hall said beaver numbers had more than trebled since their initial illegal release on Tayside and the population was causing concern by undermining river banks and impeding field drainage.
"The union has, since 2016, recognised that the species is here to stay and that, in some locations, beavers and people can co-exist happily and the species can bring biodiversity benefits," he said.
"But it is also the case that beavers have negative impacts when they locate and breed in highly productive agricultural areas."
A Scottish Government spokeswoman added: "Beavers are now a protected species in Scotland and a valued part of our biodiversity.
"We recognise they may need to be managed in certain circumstances and the licensing system for control of beavers, which is operated by Scottish Natural Heritage, complies fully with all relevant EU and Scottish wildlife legislation."