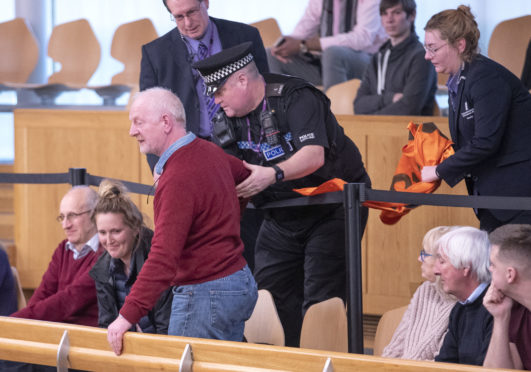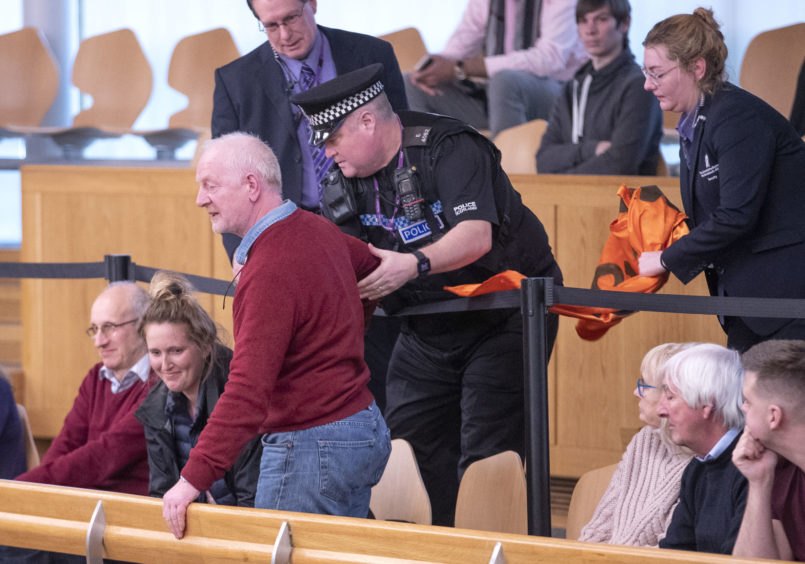 Climate change activists had to be escorted from Holyrood on Thursday afternoon after disrupting the opening  First Minister's Questions of 2020.
In the first interruption, there were shouts from the public gallery before Scottish Tory leader Jackson Carlaw responded to Nicola Sturgeon.
Before Scottish Green leader Patrick Harvie's question, a second protester rose and claimed the Scottish Government was not showing "leadership" on the country's "reliance" on fossil fuels.
He apologised for the inconvenience he was about to cause, before being removed from the public gallery and escorted out by parliamentary staff.
It follows demonstrations made by activists in Dundee earlier this week.
Seven people appeared at Dundee Sheriff Court following an incident at Dundee Port involving an oil platform.
Protest group Extinction Rebellion have said more "action" is planned over the next fortnight in Scotland.
Police confirmed a 67-year-old and 25-year-old man were spoken to and removed from the parliament building but no further action was taken.
Following the protests Ms Sturgeon was quizzed on the Scottish Government's stance on plans to expand Heathrow Airport by Lib Dem leader Willie Rennie.
Mr Rennie said: "This is urgent, this is a crisis right now. If her MPs haven't supported it at Westminster, why is she still supporting Heathrow expansion here in Scotland?
"Climate change has brought Zambia to the brink of famine, Australia has been burning since September, the ice caps continue to melt.
"Yet the First Minister continues to support Heathrow expansion."
Ms Sturgeon said: "We took the view as the Scottish Government – because we're not in control of the decision about a third runway at Heathrow – if it is going ahead then Scotland should seek to maximise economic impact and benefit from that.
"But the climate emergency, the updated advice from the Committee on Climate Change, our updated responsibilities, not just to meet but to exceed the obligations in the Paris Agreement, meant we need to review all of that.
"That's exactly what the Government is doing."
She added that having set a target for achieving net-zero emissions of all greenhouse gases by 2045 "we have to take the action now to ensure that we can meet them".
Ms Sturgeon pointed out within recent weeks Mr Rennie's party backed legislation in the Scottish Parliament meaning the Scottish Government requires to bring forward an updated draft climate change plan by the end of April.
She said the Government is current doing this, and questioned why Mr Rennie's party opposes measures to tackle climate change such as the workplace parking levy aimed at encouraging workers to leave their cars at home.