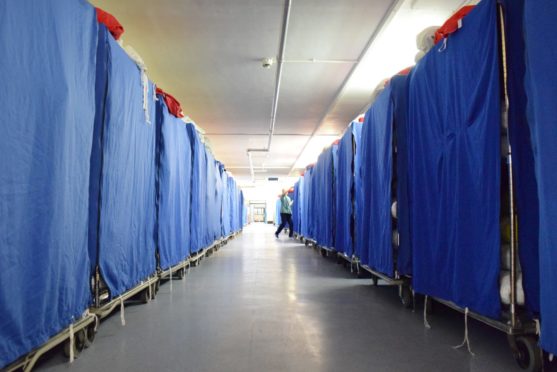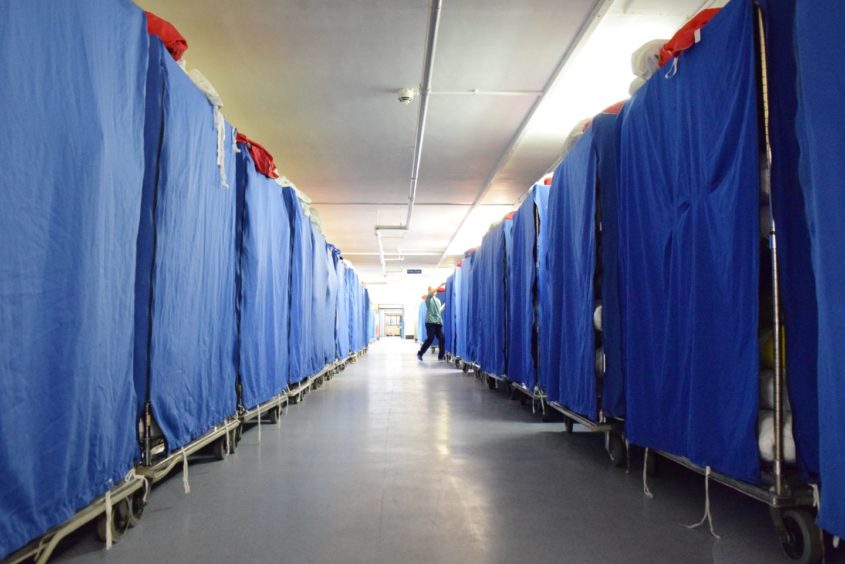 Sir, – The suggestion that this highly specialised facility is to be removed from in-house to elsewhere is extremely bad news.
Not only is it unwise, but it is also unsafe when hygiene is of the essence (or should be) in our daily lives, but most especially in the NHS. Following on from the coronavirus epidemic, now is the time to promote the best in hygiene and this is no more self-evident than in hospitals and care facilities.
It is amazing to watch full grown women emerge from public lavatories without any hand-washing afterwards.
These are elementary procedures.
Good hygiene should be carried out from our early years and taught to children within the home.
The proposal for centralisation of laundry services should be abandoned forthwith and less meddling carried out in the NHS.
It is too precious to lose.
Beth Boylan.
Fintry Place,
Broughty Ferry,
Dundee.
We must care for the carers
Sir, – I write this having just read Fife councillors' statements regarding how desolated they are at having to implement increases in council tax and rents while continuing to cut services.
In 2016, the United Nations committee on the Rights of Persons with Disabilities stated that cuts in local government spending resulting in reduced budget allocation for social welfare, health care, employment and education which had impacted on the human rights agenda.
Not much change then, other than things are getting worse. I was recently informed that due to "restructuring" of transport times for Central Fife Community Services my free time from caring for my 34-year-old son (I'm 66) would be reduced by 90 minutes per week.
This is a knock-on effect of service closures and staff shortages. as remaining staff try to maintain the service.
Fife Carers strategy states it is important people who provide unpaid care are supported to look after their own health and wellbeing, including to reduce any negative impact on their caring role.
Whoever came up with this plan obviously hadn't read the strategy.
After 30 years of banging on the counter for services, I accept the counter is riddled with woodworm and about to collapse but I feel those with learning disabilities and their carers are seen as easy targets.
This is very short sighted; as I keep pointing out to the health and social care partnership, the faster you wear out the carers the sooner you will have to find more expensive residential care.
Mary Brown.
Whytehouse Avenue,
Kirkcaldy.
Unfettered river drainage
Sir, – Alister Rankin, (Look after the UK's drains, Courier, March 3) is quite right that water drainage is vital in offsetting flood risks and that building the HS2 railway is, of course, of lesser priority than helping flood victims.
Though the climate is warming cyclically, as glaciers retreat, that changing climate has featured for aeons past.
However, from scientific analyses, the heavy rainfall, not at all unprecedented before the climate scares, is nothing new.
River drainage, previously prohibited by EU diktat, will soon be unfettered.
Thus severe floods, which cannot be blamed on our changing climate, can and should soon become much less frequent and scary.
Dr Charles Wardrop.
Viewlands Road West,
Perth.
Taking defence seriously
Sir, – While the world's focus is on the Covid-19 coronavirus, the refugees being refused at the Greek border are only one aspect of the continuing chaos in the Middle East, which includes fighting between Nato members Turkey and Russia and its associates.
This is not the first time that Turkey's president Erdogan has weaponised Syrian refugees and other migrants.
In 2016, the EU agreed to pay Turkey six billion euros and ease visa controls in exchange for Turkey restricting flows of migrants to Europe.
This time President Erdogan is more likely seeking political support and reassurance of military backing in his confrontation with Russia and its Syrian allies. In the last few days in Syria's Idlib province over 30 Turkish soldiers have been killed, while two Syrian warplanes and several Turkish drones have been shot down. Turkey also claims to have inflicted heavy casualties on Syrian and allied forces.
Normally a Nato member can count on the wholehearted support of its allies, however ironically Turkey chose to buy the Russian S-400 air defence system in preference to US or European equipment. As a result, Turkey was expelled from the F35 fighter project.
Also, just a fortnight ago the LNA rebels claimed responsibility for an attack on a ship allegedly delivering Turkish arms to the Libyan government.
With pivotal Nato member Turkey a loose cannon under President Erdogan's leadership, we really have to start taking defence more seriously, starting with greatly increasing the MoD's budget.
Otto Inglis.
Inveralmond Grove,
Edinburgh.
Vault's location is a mystery
Sir, – I found it interesting to read the article headed "Friar who lived during key medieval battles reburied near castle" (Courier, March 2).
As I read, my thoughts turned to Perth where a search has been made, as yet unfruitful, for the remains of James 1, who was murdered in the Fair City in 1437.
If those remains were to be located then what a coup this would be for Perth, considering the hope that the Stone of Destiny will be found a new home in city hall.
But on my doorstep a further mystery remains at the former parish kirk, which was ravaged by fire in February 2004 and which is now further damaged by the partial collapse of the tower.
A burial vault to the Nairne family, who resided in a large stately mansion at Loak, south of Bankfoot, lies somewhere within or outwith the church.
The vault rested in the first parish church which fell into ruin. When the second parish kirk was rebuilt in 1812 the vault found another location. But where is it? A mystery indeed.
Thomas A Brown.
Garry Place,
Bankfoot.