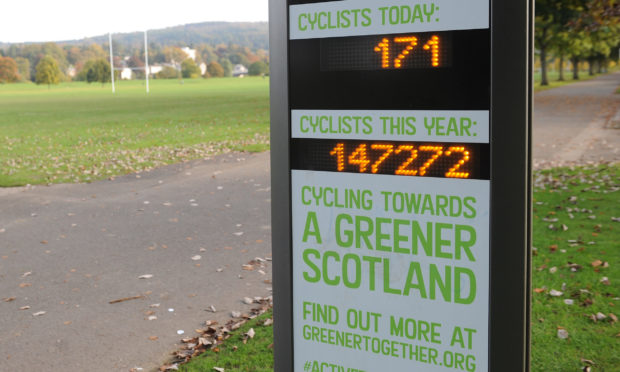 Council bosses are finalising a bid for funding to make Perth and Kinross Council a safer and greener place to travel after lockdown.
The Scottish Government announced on Tuesday the Spaces for People programme is being increased by 200% to £30 million.
The additional funding, awarded by Sustrans, will go towards supporting local authorities and statutory bodies to provide safe walking and cycling infrastructure.
A Perth and Kinross Council spokesperson said: "Officers have carried out assessments in Perth city and 13n towns/villages across Perth and Kinross and have come up with a detailed set of proposals to ensure the safety of the travelling public as we move towards the next phase of recovery.
"We will share details of our proposals in due course."
City centre SNP councillor Eric Drysdale said: "Hopefully some of the measures can be made permanent in due course. It's great that at least some good can come out of this emergency."
Conservative colleague Chris Ahern added: "I certainly support proposals put forward to ensuring social distancing and allowing us to ease the lock down and return to some semi-normality."
Campaign group Perth Area Living Streets (PALS) has put forward a list of proposals to the local authority, and is urging residents to email ideas to their local councillor.
Suggestions include closing narrow shopping streets such as the upper High Street and George Street to cars, suspending parking on other shopping streets and increasing pedestrian and cycle space.
The group also proposes designating Balhousie Street and West Mill Street for access rather than through-routes to vehicles and  installing safer cycle lanes.
PALS member Roger Humphry said: "The lockdown has demonstrated that, given safe space, free of traffic, there was great hidden desire by the public to walk and cycle.
"We really want to encourage the public to ask their councillors to support the bid for better increased safe space and facilities for walking and cycling."
So far, Dundee City Council has been awarded £460,000 for three projects and Angus Council has been given £50,000 for an initial application.
Nine councils have received a total of £11.8m towards infrastructure and another four local authority applications are awaiting a decision.
Sustrans deputy chief John Lauder said: "We are encouraged to see walking, cycling and wheeling being central to the government's plan to enable people to travel safely during Covid-19."