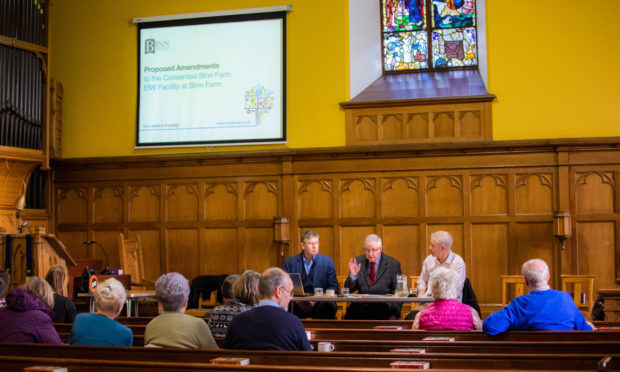 A waste management firm has revealed fresh plans for a £70 million incinerator in the Perthshire countryside.
The Binn Group has rekindled its controversial bid to build a huge energy from waste plant at its base in Glenfarg.
The scheme was first mooted more than a decade ago, and a previous planning application prompted protests from residents and environmental groups.
Binn bosses have now submitted a revised bid to Perth and Kinross Council. They say the development will create about 200 construction jobs and about 30 permanent posts once the plant is up and running.
The company wants to increase the plant's capacity by more than 40%, from 60,000 tonnes to 84,900 tonnes each year.
And a Scottish Government ban on waste being sent to landfill, which is expected to be enforced in the next few years, has made the scheme more urgent then ever, project leaders say.
The previous plan – originally lodged by SITA UK – attracted more than 250 objections, as well as a petition with 465 names.
At the time, councillors backed the plan after hearing how it would significantly reduce the financial penalty the council faced for having too much waste going to landfill.
The latest proposal has so far received a mixed response.
Green MSP for Mid-Scotland and Fife Mark Ruskell, who was involved in the original campaign against the plant, said: "There were huge concerns about this plant when it was first proposed and nothing has changed in the meantime to mitigate those concerns.
"To suggest these kinds of plants are ecologically sound is simply green washing. It will require a constant stream of rubbish to remain viable, actually disincentivising recycling. The environmental cost, and the cost to the community, is simply not worth paying."
Margaret Ponto, chairwoman of Glenfarg Community Council, said: "We have been keeping a close eye on this project and we have sent a representative to all meetings that the Binn Group has held.
"So far, we have heard nothing controversial or nothing negative about this. We've found the Binn Group very approachable and always prepared to engage with the community.
"We can see the benefits of a project like this and feel this is the right location."
Designs for the building feature a 70m chimney stack. According to papers submitted by the Binn Group, impact of emissions on human health would be "not significant".
The plans would require around 33 lorry movements to and from Binn Farm each day and residents have raised fears about the impact on roads around Glenfarg.
If Perth and Kinross Council signs off on the plans, up to 84,900 tonnes of non-recyclable rubbish could be burnt at the plant, which could be operational as soon as 2023.