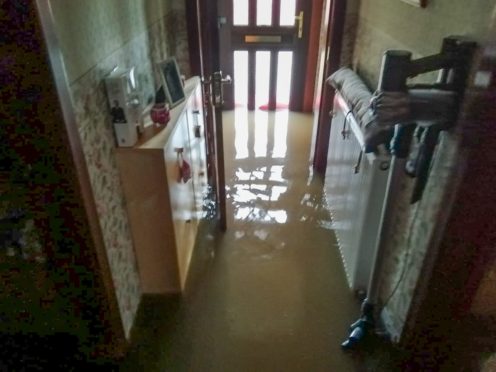 Action is to be taken to prevent a repeat of devastating flooding that saw scores of people driven from their homes in Fife.
The local authority has pledged to spend £325,000 on reviewing road drainage and clearing gullies and ditches in a bid to ensure vulnerable communities are better protected during any future deluges.
Householders in Kinglassie, Cardenden and Cowdenbeath were worst affected when the region was hit by an unprecedented storm in August and police declared a major incident.
New figures suggest the amount of rain which fell at Fife Airport, for example, was a one in 1,000 year event.
Homes were flooded and at the height of the drama, 129 council staff worked for 24 hours to deploy 4,300 sandbags.
In all, workers dealt with 239 separate incidents across the kingdom.
Many householders have still not been able to return home and the council has faced severe criticism for failing to take preventative action, including ensuring burns and gullies were clear of obstruction.
It has also been accused of failing to do enough to help in the wake of the storm.
Structural services manager Ross Speirs has defended the authority, however, saying emergency flood procedures were put in place as soon as warnings were received from the Scottish Environment Protection Agency (Sepa) and the Met Office.
"Prior to the flooding all flood pods were inspected and filled before, as well as during and after the first event.
"We also cleared all trash screens and gullies in known hot spots and cleared debris from watercourses.
"Going forward, we'll continue to work with communities so that with the help of charities like the Scottish Flood Forum, they can develop low cost solutions for their local community just as they've done in Falkland and Freuchie.
"We'll also keep working with our colleagues at Scottish Water as well as carry out regular watercourse inspections, targeted gully cleaning and ditch clearing to deal with blockages and excess growth of foliage which could restrict flows and prevent the water creating localised roadside ponds."
Mr Speirs added: "Climate change is here to stay and the impacts of storm events like we had in August need us to carry out regular, as well as proactive, maintenance as opposed to making all our resources available for reactive works.
"On that basis and as a starting point, we're proposing a review of the roads drainage maintenance standards with a view to aligning policy within the available budget."
He warned the list of investigations and mitigation measures would be challenging and carried out on a priority basis.
"Although we can't stop the rain from falling there are things we can do to at least try and alleviate the devastation severe rainfall can clearly cause."
The proposals will be discussed by councillors at a meeting of the policy and co-ordination committee on Thursday.
Fife couple devastated by flooding call for action not words
A Fife couple rescued from their flooded home by boat have called for action rather than words from Fife Council.
Kate and Steve Hampshaw were forced to move to rented accommodation after their Kinglassie villa was devastated during Storm Francis.
VIDEO: Fife couple rescued by boat during Storm Francis call for urgent action to prevent future flooding
They were among several villagers hit during August's catastrophic weather event, when the Lochty Burn was unable to cope with the deluge and burst its banks.
Their house bore the brunt as a torrent of dirty water cascaded into their street.
Despite several phone calls and meetings, their garden wall is still in the burn and they are unclear as to what action the council plans to take to prevent a repeat occurrence.
"There is maybe lots going on behind the scenes but nothing we've heard of," said Kate.
"My fear is it will all happen again a year down the line. It's a scary thought.
"Even if they clear the burn near our house and further down, nobody knows who owns the land upstream and there's no use only clearing part of it."
She added: "They need to realise they're dealing with people here and people's mental health.
"There have been a lot of nice words but we don't want nice words, we want action."
SNP MSP Jenny Gilruth is also angry at the lack of help given to people in Kinglassie.
She hosted an online flood forum involving affected locals, councillors and landowners, including the council, and an action plan has been drawn up in an attempt to get matters moving.
"There is absolute devastation down there and I don't understand why the council hasn't done anything about it so far," she said.
"People are living in fear and they are terrified every time it rains.
"That's not a way to live."
Ms Gilruth said the meeting, which also involved Sepa and Scottish Water, had been helpful and everyone was now aware where their responsibilities lay.
"I've pulled this together to hold their feet to the fire and ensure something gets done," she said.
"If we had not had Covid and had been able to hold a public meeting it would have been a really difficult meeting for the council."