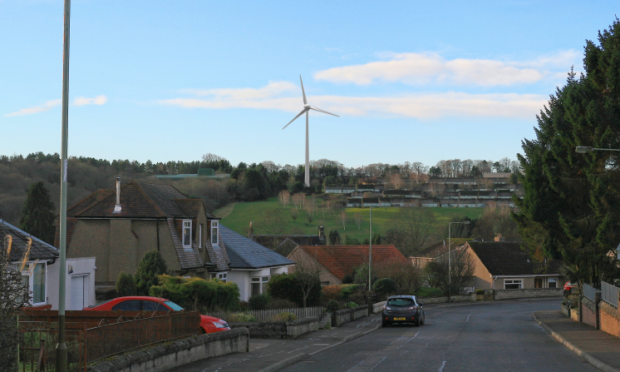 One of Perth's biggest employers has had plans for a £3 million wind turbine toppled by Scottish Ministers, just days after bosses unveiled a groundbreaking solar energy station in their car park.
Financial services giant Aviva launched its sun-powered carport earlier this week as part of an ambitious bid to have its Fair City HQ powered almost entirely by renewable energy generated on-site.
Huge solar power investment will allow Aviva to go off grid five hours a day
Aviva had planned to complement the new facility with an equally powerful 77-metre wind turbine. The company said the three-blade mast could generate about half of the A-listed building's energy needs.
The plan was initially rejected by councillors after complaints it could spoil living conditions for residents living some 350 metres away, as well as causing noise and shadow flicker.
However, Perth and Kinross Council's local review body later voted to overturn the decision, claiming the turbine is necessary to tackle climate change.
Despite backing from the local authority, the case was called in by the Scottish Government to consider a complaint from Historic Environment Scotland.
After an 11-month-investigation, the government's appeals division has declared planning permission should be refused.
The department's Elaine Hunter said it would have a detrimental effect on the building and added "the potential benefits in relation to climate change are not sufficient to outweigh the adverse impact on the development of the listed building."
An Aviva spokesperson said: "We were very disappointed to receive this news.
"We are currently reviewing this to understand the basis of the decision."
Scottish Ministers say their decision is final but Aviva can take its case even further to the Court of Session.
The company's Pitheavlis building, which dates back to the early eighties, was granted protected Category-A status by Historic Environment Scotland in 2017.
The heritage body has described the block as "among the finest of Scotland's commercial office buildings of its period."
In its written report, the appeals division states: "The potential impact of the rotating and vertical form of the turbine would be diametrically opposed to the horizontal emphasis and linear built-form of the listed building.
"There is no doubt that the proposed very tall, vertical moving structure would – in it's entirety – dominate the skyline east of the category A listed building."
The report adds: "It would undermine the very qualities that are an integral part of the design philosophy of the modernist building."
Around half of the company's 2,000-strong workforce are based at the Perth headquarters, although much of it is currently unused as employees work from home.