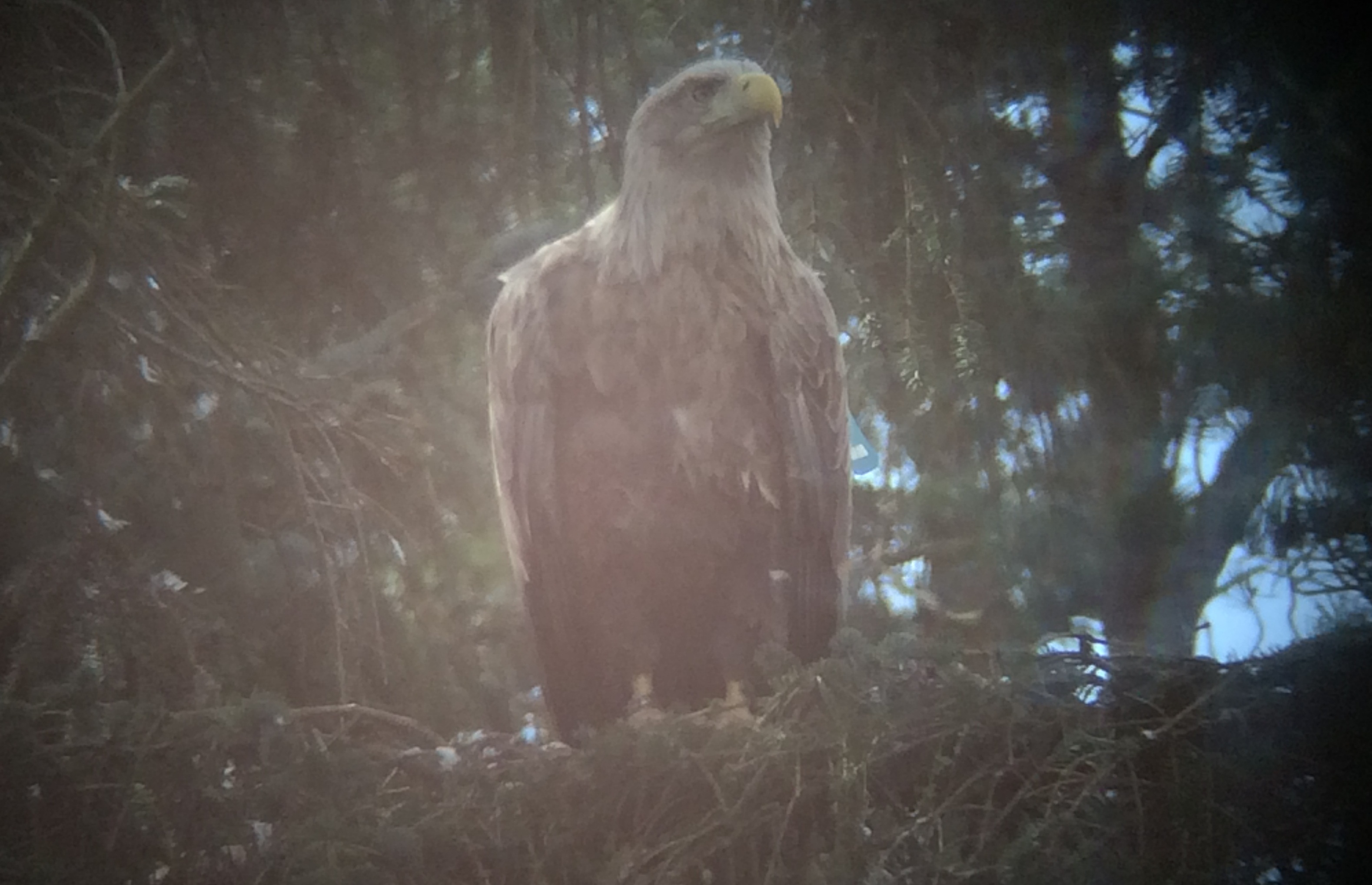 Two sea eagle chicks have hatched at a secret location in Fife.
It is the fourth year running that parent birds Turquoise 1 and Turquoise Z have successfully bred.
Having hatched and fledged single chicks in 2013 and 2014, the pair have now had twins in consecutive years.
Rhian Evans, East Scotland Sea Eagle Officer for RSPB, said: "It's really great news that there are two chicks again this year.
"Last year, one of the chicks sadly died of natural causes in the nest so we hope that this year both will fledge successfully.
"We have over 30 local volunteers involved in protecting and monitoring the nest, which helps keep the birds safe and provides us with a fascinating insight into their lives."
The birds' location is being kept secret to protect them from disturbance or persecution.
Also known as white-tailed eagles, the formidable raptors have been reintroduced to Scotland in a project run by the RSPB, Forest Commission Scotland and Scottish Natural Heritage.
Between 2007 and 2012, the project saw 85 birds released along Scotland's east coast.
Last year, the Scottish population reached 100 pairs.
The 100th pair nested on Hoy in Orkney, marking an expansion of their range.
Sea eagles became extinct in Scotland following persecution, with the last bird shot in Shetland during 1918.
The recent release of birds in east Scotland was the third phase of a lengthy reintroduction process which started in 1975. Birds released in Scotland have been brought in from Norway.
RSPB Scotland, Forest Enterprise Scotland and Scottish Natural Heritage will be running guided walks to help people see and learn more about the birds.
These will take place at Tentsmuir National Nature Reserve on Sunday July 17, Saturday August 6 and Saturday August 27. For more details or to book a place, phone 01738 630783 or email perth.admin@rspb.org.uk
Graeme Findlay, environment manager for Forest Enterprise Scotland, said: "The eagles can often be seen hunting along the shoreline at Tentsmuir, especially when they are busy providing food for demanding chicks.
"The guided walks will be a great chance to see these magnificent birds at work, discover more about them and also learn about the reintroduction programme."
For updates and more information about the East Scotland Sea Eagles project visit www.rspb.org.uk/community/ourwork/b/eastscotlandeagles/default.aspx.