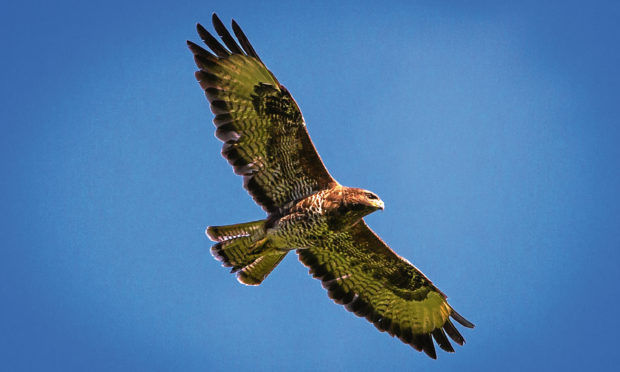 Sir,- Is Mr Logan Steele, campaigning for the Scottish Raptor Study Group seeking stronger regulation of licensed game bird hunters, whom they suspect of many illegal but undiscovered raptor killings, aware of the alleged heavy toll of birds of prey and of bats by wind turbines?
The RSPB believes that "properly-sited' wind turbines are safe enough, but who knows if that is the rule in Scotland?
There have been very many reports of widespread raptor killings worldwide but I believe windfarm staff are widely employed to remove the birds' remains.
Holyrood's environment committee should be able at least to investigate the allegations of such a potential cause of the heavy toll of Scottish raptor killings, despite any political and commercial pressure to look the other way.
(Dr) Charles Wardrop.
111 Viewlands Road West,
Perth.
Car parking explanation
Sir, – May I defend myself against Dr Windsor's comments of April 20?
The reason I am able to leave my car in Dundee city centre and seek out a taxi is that I carry a powered wheelchair in the back of my car and unload it using ramps, and seek out a wheelchair-accessible cab.
I too, have to be careful in selecting my space so that I have ramp access. Those pictured, in South Street , Perth, are useless to me.
I park in the centre of Dundee not to avoid the charge at Ninewells, but to avoid the Ninewells parking attendants, as opposed to those at City Quay. I do not find Ninewells disabled friendly.
The reason I am able to afford taxi fares is because I get a war pensioner's mobility supplement which is paid to help me get about.
I would quite willingly use this to pay standard parking charges, as I would have to in my own country.
I would even more willingly park and walk if I could get rid of my disability and its associated war pension and mobility supplement.
Laurie Richards.
100 Crail Road,
Cellardyke.
Fife rubbish will create fire risk
Sir, – Martin Dibley wrote in to highlight a move by Fife Council to begin a Sunday morning commercial paper collection.
The news must be concerning for those affected by the change.
The Scottish Fire and Rescue Service will be able to accurately predict what will happen following such a move; namely a rise in wilful fire raising and consequent fire damage on Saturday nights.
The move to a Sunday morning collection appears to be poorly thought through and it may take a rise in malicious fire incidents to prove the point.
Brian Anderson.
54 Cloanden Place,
Kirkcaldy.
Party gripped by inertia
Sir, – Nicola Sturgeon's coalition of chaos in which the SNP joins Jeremy Corbyn's Labour rump and Tim Farron's handful of Lib Dems to defeat Theresa May's Tories is beyond parody.
Mr Corbyn immediately dismissed the idea, clearly unwilling to join forces with a devolved government that had overseen "a deplorable increase in child poverty and the working poor".
The first minister forgot her granny's warning about being careful what you wish for when she suggested the prime minister confirm her position in a general election.
Having hit the heights in 2015, the SNP can only go backwards and its muzzled troops cannot hide the incoherence of its core policies or its leader's tiresome girning and administrative inertia.
Rev Dr John Cameron.
10 Howard Place,
St Andrews.
Listen to your candidates
Sir, – It would be most interesting to know whether the people who fasten "no canvassers" or "no political leaflets" signs to their doors are the same who complain during elections that nobody has knocked on their door or that they do not know anything about any of the candidates.
Jane Ann Liston.
5 Whitehill Terrace,
Largo Road,
St Andrews.
Time to scrap climate act
Sir, – James Thornton, chief executive of environmental law firm ClientEarth, has challenged climate change and industry minister Nick Hurd over delays in publishing a new emissions reduction plan.
He said: "Government is long overdue to bring forward an ambitious plan that will close the persistent and unlawful gap between legally-binding carbon budgets and current plans".
He has threatened legal action and demanded that the energy secretary explains how the Government will fulfil its legal obligations under the Climate Change Act 2008.
The Government should point out that the UK and Scotland are the only countries in the world with legally-binding climate change acts, that the UK is insignificant with 1.3% of emissions, and that other countries only made non-binding promises in Paris.
Since the Paris Accord, America has cancelled its promises and US states will be freed from having to reduce emissions.
China promised it might reduce emissions but only after 2030.
The solution to ClientEarth's threats is simple for Mr Hurd to abolish the economically destructive climate act and thank Mr Thornton for bringing this green foolishness to his attention. Problem solved.
Clark Cross.
138 Springfield Road,
Linlithgow.
Election real test for nationalists
Sir, – Nicola Sturgeon is to be commended for her honesty.
If the SNP wins the general election in Scotland, she claims her pitch is strengthened for a second separation referendum.
But will the ballot box reward such honesty?
You'd be forgiven for thinking the SNP is always the party of independence. But no.
At the 2015 general election, separatism was airbrushed out of the campaign.
Then, immediately after the result, Ms Sturgeon threatened another referendum if David Cameron didn't cave into her every demand.
The nationalist leader has spent 10 months since the EU referendum using Brexit as a smokescreen for attempting to stage a second referendum yet during the Holyrood election, Ms Sturgeon insisted education was her priority.
The SNP will indeed win in Scotland if we solely judge winning as meaning holding on to the majority of seats.
But the loss of a few constituencies and, more crucially, a drop in SNP votes to below the nearly 50% achieved in 2015 or even 2014's 45% will be worrying for Ms Sturgeon.
Hiding behind the Stronger For Scotland banner has previously won the SNP votes.
But this time round with, for once, independence playing centre stage in the nationalist campaign, will Scots' enthusiasm for the SNP be more than slightly dented?
Martin Redfern.
Merchiston Gardens,
Edinburgh.