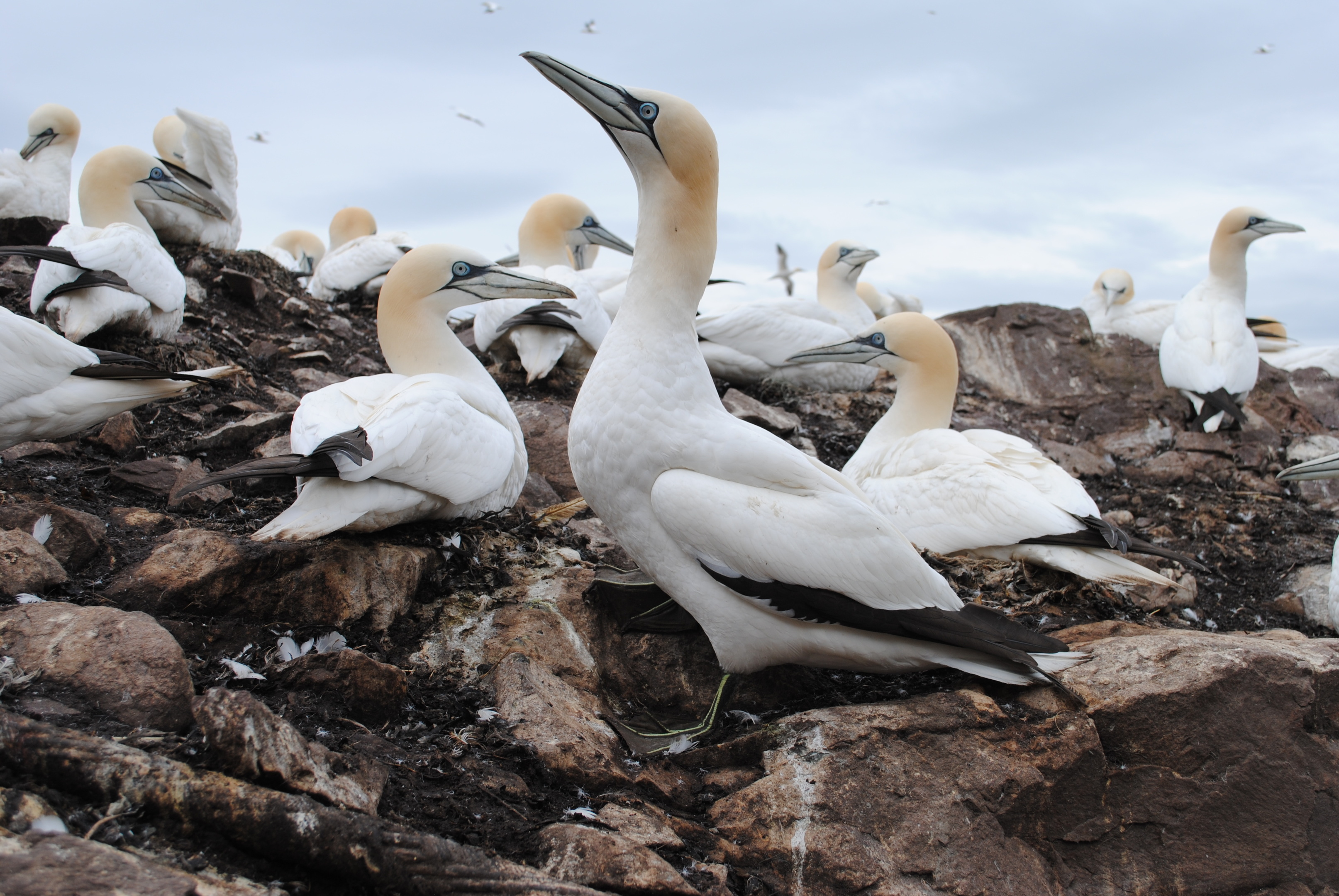 I've never gone birdwatching with a riot shield before, but gannets are pretty feisty birds and as we made our way up a narrow section of path on the Bass Rock, the small plastic tiles held on either side of our legs provided perfect protection from the occasional peck from their dagger-like beaks.
They worked a treat and it wasn't long before we reached a small plateau where we stopped and look around us in wonderment.   It was a scene almost too much to behold – a cacophony of noise and swirling gannets hanging in the sea breeze on stiffly-held wings. And then there was the smell, the heavy aroma of fishy guano that enveloped the air like a seeping mist.
Spell binding, mesmerising, awe inspiring – all descriptions used with too much ease in our day-to-day language. But here on the world's largest Northern gannet colony such terminology really does apply – and truth be told doesn't even do justice to the actuality.
Every conceivable space of rock was taken up by nesting birds, stretching ahead of us in a sea of white.  This was a place where a thousand dramas were all being played out at the same time; gannets squabbling and beak stabbing with their neighbours while others were engaged in pair bonding ecstasy as they raised and shook their heads together in mutual affection.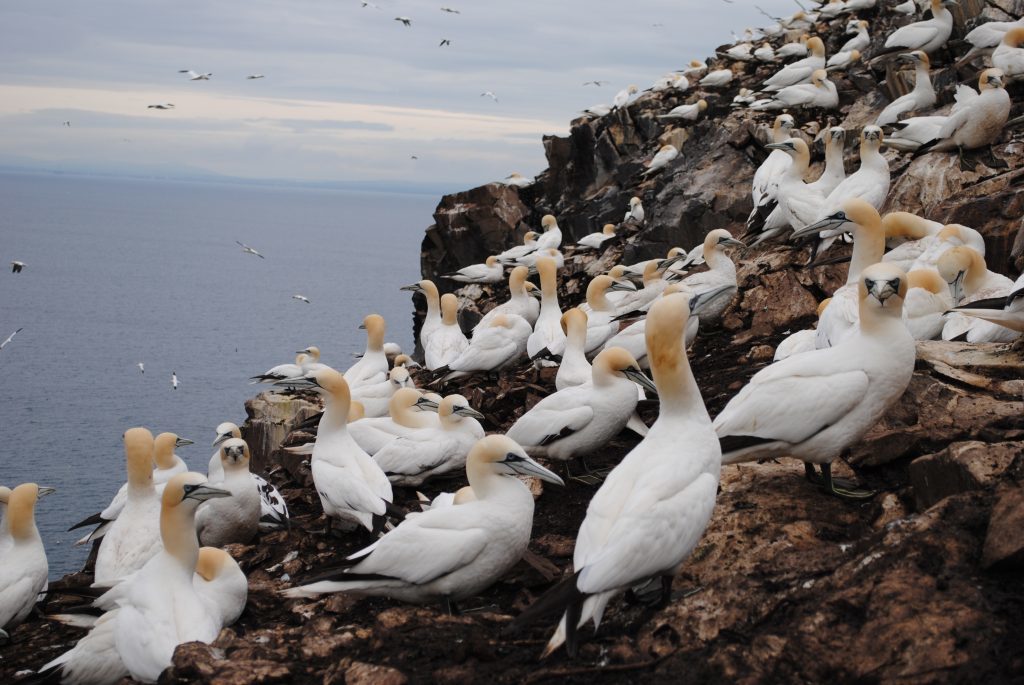 There was also a rather lot of plunder going on, whether it be sneaky gannets stealing seaweed from nearby nests so as top up their own, or herring gulls swooping down to feast upon unguarded eggs.
I was on the Bass Rock courtesy of the Scottish Seabird Centre at North Berwick, and our guide, Maggie Sheddan, was an excellent host in explaining to our group the fascinating natural history of gannets.
Over 150,000 gannets nest on the rock and they have being doing rather well in recent times with numbers having increased. Much of this success lies in their ability to hunt for a variety of fish species over large distances, meaning if fish are scarce in one area, they can find a hotspot somewhere else.
On our way out to the rock, the boat crew threw some dead herring into the sea to enable us to see the incredible diving skills of these birds. As soon as a fish hit the water, a gannet would plunge down after it, entering the sea at an oblique angle with the wings quickly folding back so as to transform the body into a torpedo.
Of course, the Bass Rock is not just about gannets. There are so many other seabirds here too, including guillemots, razorbills, shags, kittiwakes and fulmars. We even saw a few puffins. The water around the rock was also tantalisingly clear, and as I peered down into its depths, I couldn't help but wonder at the huge diversity of marine life that must lie below the waves of this truly magical place.
Info
The Scottish Seabird Centre offers a range of boat trips to the Bass Rock, as well as the chance to control interactive live cameras to see the gannets in their natural habitat. It's also a conservation and education charity www.seabird.org