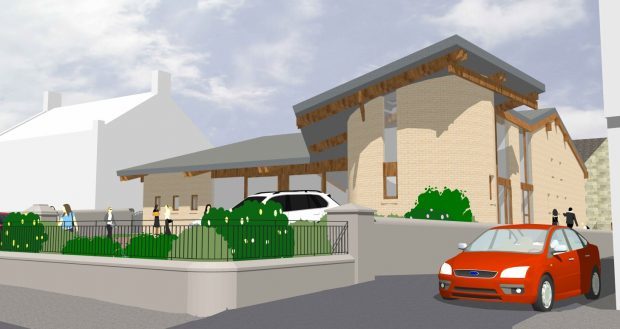 Angus church leaders face a six-figure bill to repair a crumbling 137-year-old building after plans to demolish it were knocked back by officials.
Earlier this year, St Margaret's Church in Forfar submitted plans to replace the building with a single-storey community church which would include a cafe, multipurpose hall, kitchen, vestry, an oratory and an office.
However, Angus Council decided the church's demolition would have had a "significant detrimental impact" on the character and appearance of Forfar Conservation Area.
It leaves the church with an estimated £300,000 repair bill — not including an costs for modernisation.
Officials from St Margaret's Church said they were not yet in a position to comment on their post-setback plans.
Rejecting the application, Angus Council officials said: "The building makes a significant and positive contribution to the street scene and is of some local historic and cultural significance.
"There are relatively few surviving buildings of this scale and quality remaining in Forfar Conservation Area and town centre.
"In line with the guidance provided by the Scottish Planning Policy, the building makes a positive contribution to the conservation area and the presumption should be to retain it.
"The demolition of St Margaret's Church would not protect or enhance the character or appearance of the Conservation Area and would erode and undermine its character."
Decay in the church building was first noticed 35 years ago with architects brought in to look at solutions in 1996.
Church officials decided that the best option was to demolish the church and create a new "21st century" place of worship with a public consultation then held which drew support from the community.
Historic Environment Scotland (HES) objected to a separate application for Conservation Area Consent, arguing "every effort" should be made to keep the church.
The organisation stated because demolition may cost more than renovation, knocking down the church could not be justified.
They did, however, make it clear they would consider supporting an alternative application if it was to retain its facade.
Responding to the council's decision to reject the application, a spokesperson for HES said: "Angus Council consulted us on the application for demolition.
"We considered the church made a positive contribution to the character of Forfar's conservation area and, therefore, every effort should be made to keep it. We considered that a strong a case for demolition had not been made and consequently, in June 2017, we objected to the proposal.
"Since our objection, Angus Council has determined that conservation area consent for demolition was not required, as church use was continuing on the site. This means we have no further role in the council's appraisal of this application."
Though not a listed building, it was constructed in 1879 and sits prominently at the north side of West High Street.
Its most striking features are an imposing Gothic facade which includes a broad gabled nave and a large decorative rose above four lancet windows.