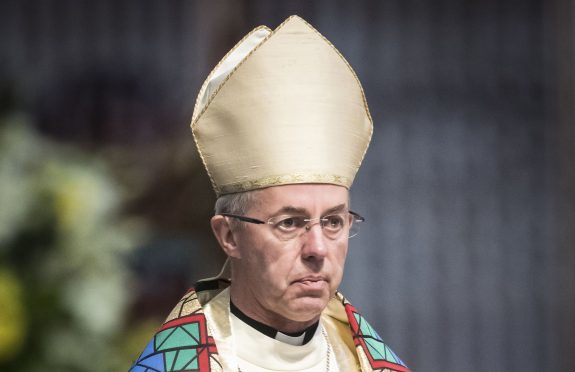 Sir, – Jenny Hjul ("We must all watch the BBC", The Courier, January 10) is right to tell us to watch the BBC, but the corporation seems to have recently changed its name to Believers Broadcasting Christianity.
In December the BBC broadcast an entire Radio 4 Today programme from Lambeth Palace, the Church of England headquarters.
It gave an hour of unchallenged airtime to the Archbishop of Canterbury and others to proselytise, over and above the usual Thought for the Day slot it reserves for the religious guardians of our morality.
Your readers may have noticed that the Church of England is currently the subject of an ongoing Government-sponsored public inquiry into the cover-up of child abuse by its clergy, and indeed by some of Justin Welby's fellow bishops.
No fewer than five current or former bishops, including the current Archbishop of Canterbury and two of his predecessors, are either directly implicated in a cover-up of child sex abuse, are under active police investigation for this grave offence, or have been exposed as having done so.
Since when did it become the policy of the national 'state broadcaster' to give a fellow pillar of the establishment the airtime to redeem its damaged reputation during a public inquiry into its activities?
Has the BBC learned nothing from the Savile scandal?
Alistair McBay, National Secular Society, 5 Atholl Crescent, Edinburgh.
Fight plastics with the truth
Sir, – In your article ("Environmentalists back bid to ban plastic straws", The Courier, January 9) SNP MSP Kate Forbes is quoted as saying in Scotland we may consume £3 billion of plastic straws in a year, at a rate of 1.6 straws per person per day.
A very quick calculation reveals, based on a population of 5,373 million, a cost to each person of 95 pence.
Do plastic straws cost 95p each???
If politicians want to be taken seriously, then they must produce realistic statistics, and not just throw out scaremongering figures which will certainly not attract the public's attention.
We do have a serious problem; we are a disposable society and we must all take responsibility for our actions.
Scaremongering is not the way.
Allan Smith, 8 Reed Crescent, Laurencekirk.
Fire rules there for a reason
Sir, – May I through your letters page thank the retained firemen of Tayport and St Andrews for the splendid way they dealt with a fire in our home on Monday January 8?
Not only were they professional in the way they dealt with the fire, but in the way they reassured my husband and myself.
Can I also take this opportunity to remind residents in streets and cul-de-sacs to be mindful of how they park their cars, as every moment counts when fire engines are trying to get to the fire they have been called out to deal with?
Carroll Finnie, 17 St Bunyans Place, Leuchars.
Nuclear veterans' plight
Sir, – Reading the article "More than a war of words" (The Courier, January 11) does not fully explain the reality.
We have some of the finest men and women in the forces. They are loyal, devoted and honest.
This cannot be said of the Ministry of Defence, who use our service personnel as human guinea pigs then deny all knowledge of any problems that may occur later.
The nuclear veterans who were exposed to ionizing radiation during the war have been fighting for 60 years to have the truth divulged.
The Ministry of Defence refuses to release information regarding the levels of radiation they were forced to endure.
Documents have been requested, but the Ministry of Defence refuses to release them.
When Gordon Brown was Prime Minister he apologised for 'slavery' but refused to answer the three letters which I sent to him regarding the plight of the nuclear veterans.
I say, let those working at the Ministry of Defence join the armed forces.
Dave Whyte, 73 Blackcraigs, Kirkcaldy.
Gaelic police signage?
Sir, – A police source has told me there is a plan to mark police cars in Gaelic and a general policy to increase the use of Gaelic within Police Scotland.
While it may well make sense in those parts of Scotland where Gaelic is spoken, could Police Scotland please confirm that no money is to be wasted spending on Gaelic in parts of Scotland where it would not be understood?
Garry Barnett, Campsie Hill, Guildtown, Perth .
East Neuk road closure chaos
Sir, – I wonder who was the brainy person in Fife Council who decided to close all of the access roads to the East Neuk from north-east Fife – at the same time!
One would have thought that road repairs (presumably the reason for closure, although we don't know) would have been undertaken sequentially.
Currently the only way from Cupar to Elie, for example, is either through Leven or St Andrews to Anstruther proceeding east or west on the coastal "tourist trail".
The traffic detour signs are non-informative.
The extent of individual road closure is not given – is it one mile or 10 ? – and there are no indications of minor road links to closed roads.
The situation is bad enough for us East Neuk locals, marooned on the coast, but must be hell for non-local drivers relying on sat-navs!
For such a significant road closure programme, surely the council or its contractors could have used local media to provide better information in advance of roads being closed?
Derek Farmer, Knightsward Farm, Anstruther.
How to solve the NHS crisis
Sir, – Ian Allan's frustration (Letters, January 10)over the crisis in the NHS and in particular accident and emergency (A/E)departments is understandable, but I fear that some of his analysis of the cause and its solution may be off the mark.
It does raise the question though of why, after over half a century of "free" NHS care, we seem to have a growing burden of disease and illness in our population and not less; which surely contributes to why the resources (which are considerable) increasingly struggle to cope with the demands laid on the service.
The solution of giving more sticking plasters (GP's working all hours) is a temporary and expensive fix, when we should be reducing the need for the plasters.
Health education, better lifestyle choices and self-management of minor illness is also needed, but it might take a generation to reap benefits.
In addition, more residential care facilities would relieve pressure on hospital beds.
If GPs were to work all hours and holidays, I doubt that it would solve all of A&E's problems.
GPs don't work in isolation.
They would need to be assisted by practice nurses, as well as attendant receptionists and pharmacists.
They would also need access to hospital consultants, radiology and laboratory services (backed by specimen collection), and public transport for patients.
To provide this level of service would require far more than the 800 GPs (and said services) already proposed by our politicians to ease the NHS crisis.
I shudder to think how this could be funded.
It is a worrying situation, but I don't think that simply asking an already overworked group of medical professionals to work even harder is going to help in the long run.
Whatever the answer to this predicament is, it is not going to be an easy one.
Alistair Montgomery, 8 Beechwood Terrace, Dundee.