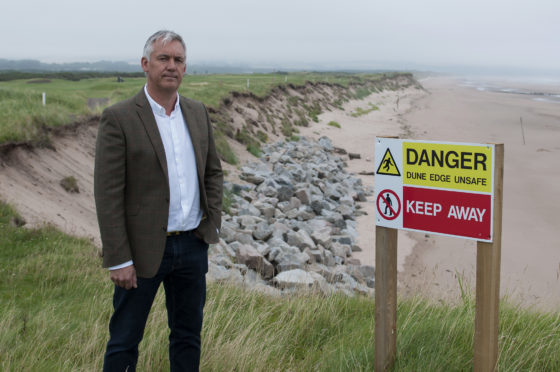 A UK climate change report has warned rising seas and coastal erosion have left Montrose Golf Links "with nowhere to go".
Montrose has been singled out as an example of the threat of climate change to the future of links golf in Scotland.
The newly-published Game Changer report suggests golf in Scotland being perhaps the hardest-hit sector as a result of climate-related increases in precipitation as well as coastal erosion arising from storm surges and rising sea levels.
The study has been carried out by the Climate Coalition which consists of more than 130 organisations including the WWF UK, Oxfam, Christian Aid, the National Trust and the RSPB.
For more than 450 years golf has been played on the links of Montrose but changing seas and coastal erosion is threatening to destroy part of the course which can boast features laid down by Old Tom Morris.
The North Sea has crept 70 metres towards Montrose Links within the past 30 years and the championship course has already been altered to take account of recent devastation.
"As the sea rises and the coast falls away, we're left with nowhere to go," said Chris Curnin, director at Montrose Golf Links, who is also a member of the coastal erosion sub-committee.
"Climate change is often seen as tomorrow's problem, but it's already eating away at our course.
"Last year we reached a critical point, the rock armour protecting our second tee and first green was no longer sufficient and we were in real danger of losing them.
"In a perfect storm we could lose 5 to 10 metres over just a couple of days and that could happen at pretty much any point."
He said Montrose Links is now pinning its hopes on funding for coastal protection to install rock armour.
"If Montrose do not receive government funding to protect the dunes, we would have to dramatically move the course inland, which mean losing a slice of golfing history we won't ever get back," he said.
The new report has been supported by the R&A, the sport's governing body in the UK, which said there was "no question" that climate change is becoming a huge factor.
Steve Isaac, director of golf course management at the R&A, said: "I believe golf is more impacted by climate change than any other sport aside from skiing.
"We are feeling it now with increases in unplayable holes, winter course closures and disruption to professional tournaments.
"And the future threats are very real."
Many aspects of our lives including the game of golf would struggle to adapt to such a changed world."
The report also highlights the impact of climate change on football and cricket, in particular.
Tanya Steele, CEO of WWF and a member of The Climate Coalition, said: "Climate change won't leave any aspect of our lives untouched, even the sports we love.
"Our report shows that golf, football and cricket – three sports at the heart of British culture – will all be irrevocably changed.
"This should be another wake-up call for all of us. We must get our emissions down and meet our Paris Climate Change Agreement targets."