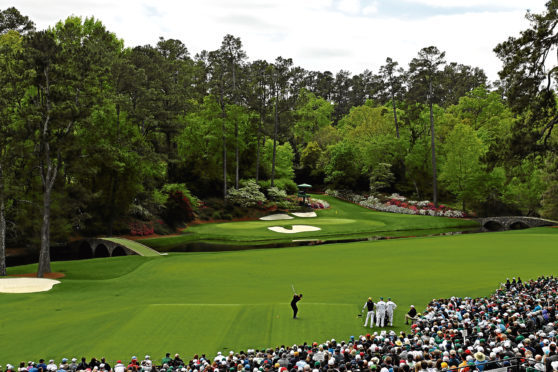 We've all been beguiled by it – for many it's what first drew us to the game of golf.
I speak of the apparently impossible green-ness of Augusta National Golf Club, host to the Masters every April. It's become the gold standard for the game of golf.
Legend – and unlike many legends, much of this is true – has it that absolutely no expense and innovation is spared to make Augusta look perfect every year.
The construction of modern bunkers is largely based on a method pioneered at Augusta. The SubAir system in the greens ensures perfection – as much as that is attainable – in the putting surfaces and a measure of control to take Mother Nature almost out of a job.
Similarly, the famous azaleas are reportedly "coaxed" to flower early by the use of heat lamps, the same sort you find at many elite soccer and rugby grounds these days bringing the grass back to life between matches.
A late colleague of mind who went to Augusta every year said he made it a point to try to find a weed on the premises. 20 years of visits, he said he never did. Not one.
How is this actually done? The hyper-secretive ANGC won't say, of course, so I'm indebted to the No Laying Up website who gave space to agronomist David Marcucilli during the Masters to offer up some observations.
Marcucilli, a professional greenkeeper, explained the overseeding process that Augusta has to undergo (because the ultra hot and humid Georgia summers followed by cool autumnal conditions effectively kill the grass) to make it look super green each April.
The Bermuda Grass has to be "scalped" back to almost nothing, then overseeded. This is "very labour intensive" and in Marcucilli's experience (at a course where it's not done as extensively as at Augusta) a million gallons of water are used to germinate the seed and the fertilisation bill for just one application is $10,000 a time.
Super rich and exclusive ANGC can well afford this, of course. But imagine aspirant clubs across the world mimicking this preparation even in part.
To be fair, the R&A and USGA have been proactive in promoting more sustainable greenkeeping practices. The Centro Nacional de Golf in Madrid hosting the Spanish Open just this weekend won an R&A award for their environmental work (although it was notable some people grumbling about the "rough, weedy" patches in spectator areas).
The USGA embraced the renovated Pinehurst No 2 for the US Open in 2014, where Ben Crenshaw and Bill Coore restored the "waste" areas in Donald Ross' original design and vastly reduced the amount of water used on the course. There were still many ignorant moans about the course not looking Augusta green, notably from the current President of the USA.
Trump has run into environmental issues in his Scottish and Irish properties, of course, and mostly been allowed to run right over them.
But the environmental lobby are a vocal and tenacious lot, and there are far more of them than golfers. If they've identified golf as an enemy, it's not going to be an easy fight.
An indication of this drawing of battle lines was in another troubling article I read in CityMetric, the online magazine concerned with urban living issues.
CityMetric is an arm of the New Statesman, and I can hear many of you dismissing the lefty tree-huggers right now. But Evan Odell's article came at the issue from an entirely different angle.
Odell dismisses the argument that a golf course is a sanctuary for wildlife because it uses less pesticides than a farm (depends on the golf course, you'd think). A public park, open to everyone, would do a much better job at that, he points out, and roughly twice as much land in the UK is given over to golf courses than to public parks.
But he also identifies the number of golf courses within a couple of miles of train stations in the London and the South East area and the land they cover – 48,000 acres, enough for over half a million houses.
Freeing up some of that land would go a long way to solving the housing supply crisis in that part of the world.
"I am not suggesting all golf courses should be concreted over and replaced with housing or offices," he writes. "Rather, I am suggesting that the use of this land for golf does not make sense, given the many other possibilities."
It's an alarming scenario for golf lovers. And especially so when the game is getting so much longer, courses are being stretched to cope and new developments are invariably "championship" sized even though they'll never see a proper championship.
Using more and more land for golf at a time of declining participation, being so intensive in use of water, fertilisers and pesticides to make it look as green as possible, is simply not sustainable.
Golf can get the environmental lobby on its side. It's a far better use of green space than many alternatives.
But in today's world it's got to be smaller, less impactful, and a whole lot more accessible to the general public.