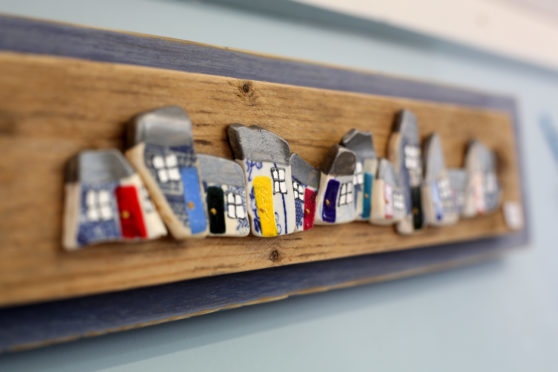 Kay Anderson's unique crafts capture Fife's stunning coastline and natural beauty, discovers Caroline Lindsay
For as long as Kay Anderson can remember she has always loved being creative and making things. Today, ensconced in her Shed Heaven studio at her Cupar home, she produces unique collages inspired by the coast and fused glass influenced by the garden.
"Art was my favourite subject at school and, although I didn't go on to study it, it was always there in the background, distracting me from whatever else I was supposed to be doing," she smiles.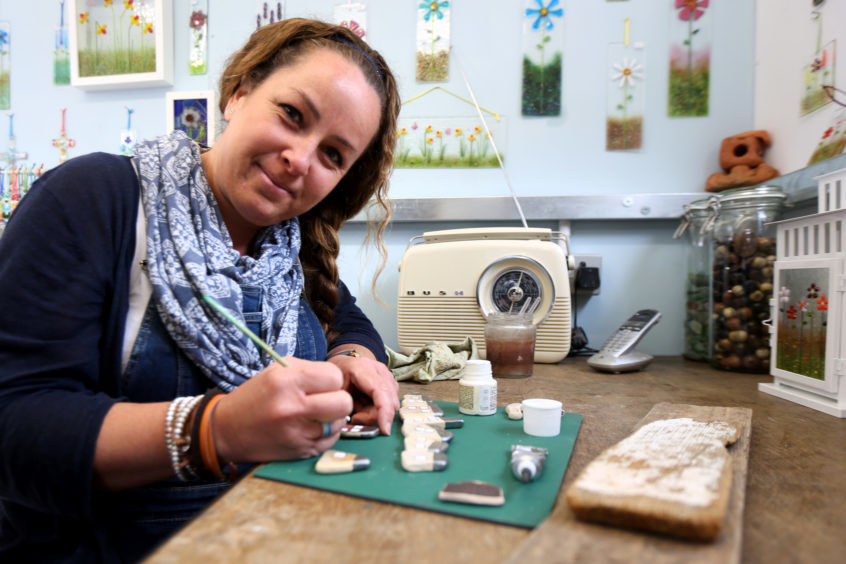 "I studied geography at St Andrews but when it came to my final year's dissertation I think I spent just as long on the drawing for the front cover as I did in writing the 10,000 words!
Maybe I was just destined for a life of making things in my shed."
Kay started dedicating more time to her artwork just over five years ago when the youngest of her three children went to school.
"I knew I didn't want to juggle family life with the kind of work I had done previously, so it seemed like the perfect opportunity for me to pursue what I had always wanted to do," she explains.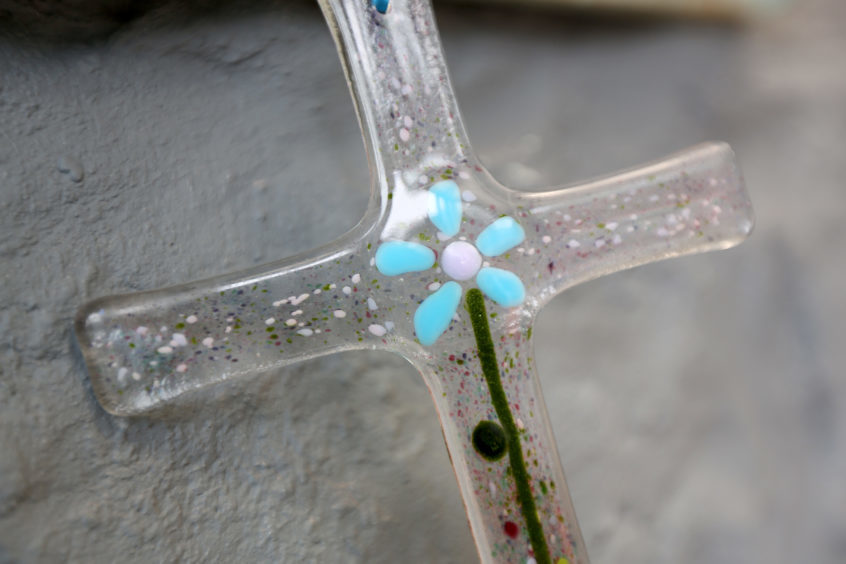 "It was then that we built the shed and I have been in it pretty much ever since!"
Kay loves to be outdoors and the family spends a lot of time walking in the countryside and along the coast, both in Fife and up in Orkney where they go every summer.
"I rarely go a day without taking photos and at this time of year there's so much colour and texture in the plants and flowers around us that it's not hard to find inspiration," says Kay.
She loves living near the sea close to so many stunning Fife beaches.
"We are so lucky to be within such close proximity to so many beautiful beaches and interesting coastal towns and villages," she enthuses. "East Sands at St Andrews is a real favourite, also Tentsmuir, Kingsbarns, Elie and Lower Largo. There are so many to choose from it never gets boring and every time you go there's something new to find.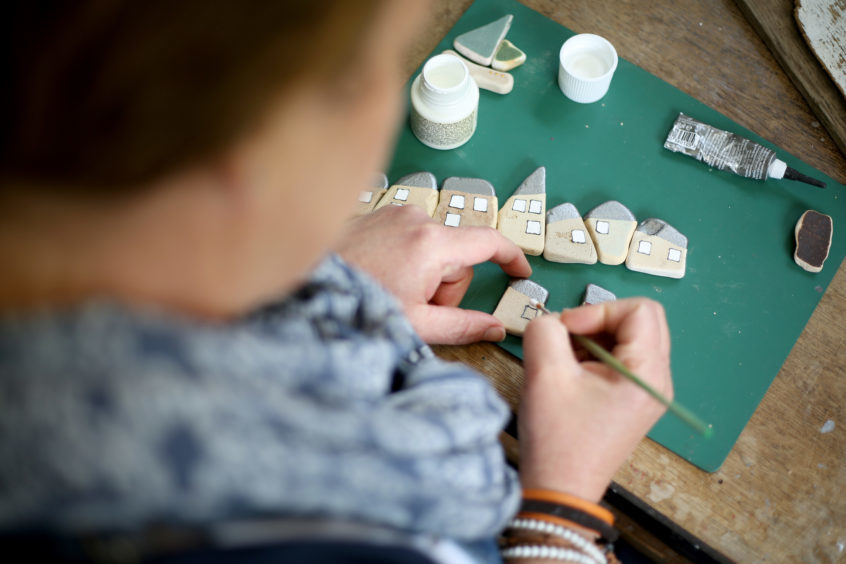 "It's my absolute dream to have a house by the sea one day."
Designing and creating can be a lonely job but the recent North Fife Open Studios event gave Kay the chance to meet folk of all ages.
"As an artist you can spend a lot of time on your own, working away in a studio or, in my case, a shed," she confirms.
"Usually I end up talking to the dog, so for three days it was nice to speak to actual humans!
"I had more than 360 visitors over the course of the weekend so I was really glad to have my mum and daughter on hand to help me," she continues.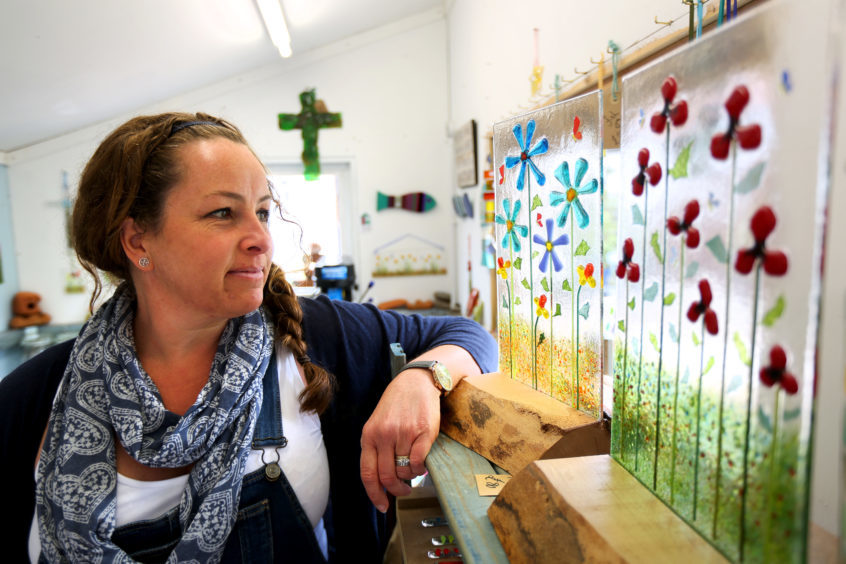 "The feedback I got was really encouraging and I'd certainly like to take part again next year. Making things makes me happy, so if something I've made can make someone else happy then I can't ask for more than that."
Since Open Studios finished Kay has been catching up on orders and commissions, including five glass door panels for a cottage in Falkland.
"I've also been restocking the shed in preparation for two upcoming events – the Alyth & District Agricultural Show on June 16 and Crail Festival Street Market on July 21. I'm keeping my fingers well and truly crossed for good weather on both days," she smiles.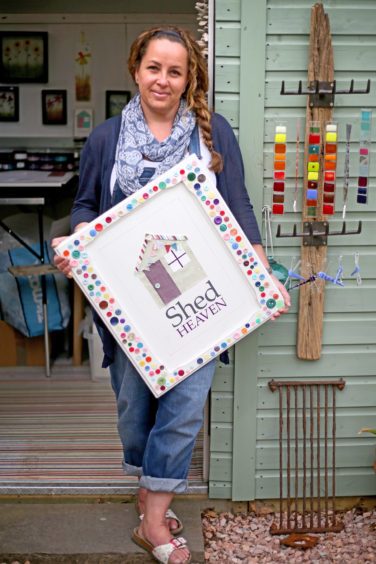 Kay reckons anyone can have a go at being creative. "Even if you think you don't have an artistic bone in their body, just have a go," she urges. "Whether you fancy drawing, painting, pottery, printing, needlework, cake decorating, photography or whatever, there's a whole wealth of help out there to get you started.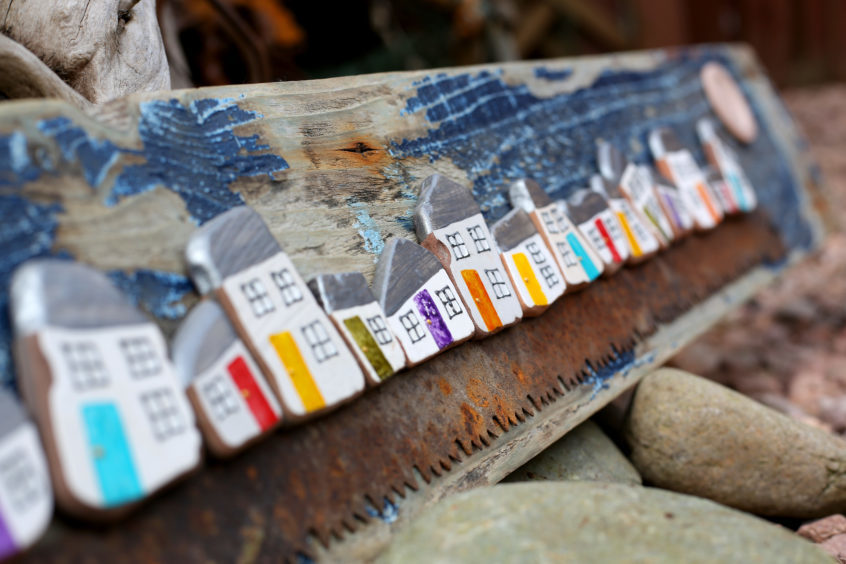 "Get a book from your local library, go to a workshop, watch online tutorials or share skills with a group of friends – the possibilities are endless.
"And, once you're hooked, I'd recommend building a shed…!"
@shedheavencrafts on Facebook and @shedheavenphotos on Instagram