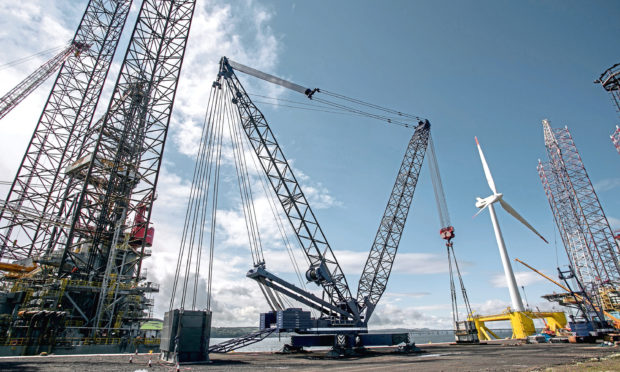 Dundee's ambitions to become a major renewable energy and decom hub have received a further shot in the arm after global heavy lift specialist ALE agreed a new tie-up at the city's port.
The Stafford headquartered group – which has operations in 38 countries worldwide – said it had reached agreement with the Port of Dundee and local crane operator OM Heavy Lift to provide a full suite of port services.
OM Heavy Lift is a subsidiary of OilMac which recently purchased and refurbished a Gottwald heavy lift crane from ALE.
The unit was commissioned in August and is Europe's largest permanent quayside crane, with the capacity to lift cargoes of up to 875 tonnes from a ship.
"We are pleased to be working together to optimise our services to the ever-evolving renewable sector," ALE commercial director Chris Taylor said.
"The Port of Dundee is becoming an increasingly bigger player in the offshore markets and, by promoting our services together, we can really optimise these opportunities and provide a fully integrated service to our clients."
Alex Fyfe, managing director at OM Heavy Lift, said: "We're anticipating our heavy crane capability to be a significant attraction for offshore wind developments.
"The Gottwald MK1500 is a vital asset for future offshore wind and decommissioning projects in Dundee and will propel our business in the medium term, and beyond."
Port of Dundee manager David Webster said: "We place significant emphasis upon the decommissioning and renewables construction capabilities of at the Port of Dundee, and it becomes ever more attractive in this field as OM Heavy Lift's Gottwald MK1500 and Olympus cranes mitigate those cranage costs."
The boost follows Offshore Decommissioning Services (ODS) Limited this week revealing its ambition to base its Moonraker project in Dundee, with the potential to create 500 local jobs over three years.
The ODS proposal for Moonraker is set to build the world's most advanced decom heavy lift offshore vessel and locate its operations hub in Dundee.