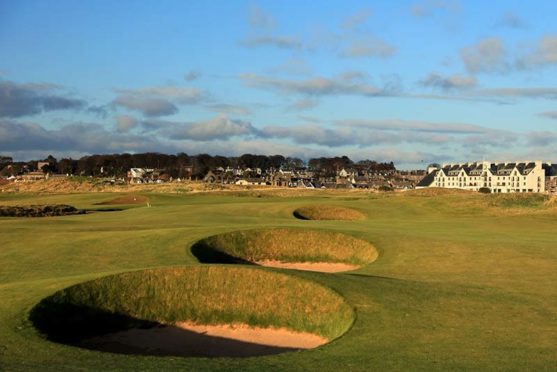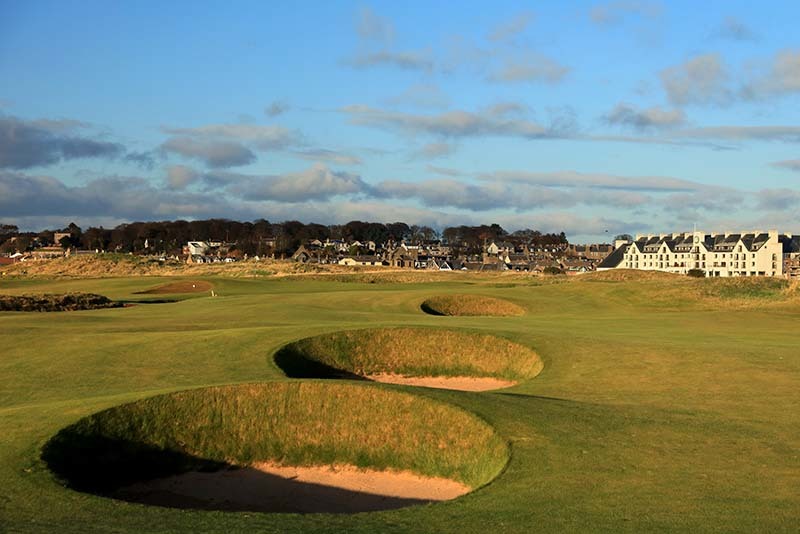 Madam, – When I read how Angus Council and the Carnoustie Golf Links groups were opposing the laying of a renewable electricity cable through their land (Compulsory purchase order on historic links, Courier, July 11) I began to wonder if I was reading a master lesson on "how to do irony".
The Angus coastline is already suffering from severe erosion, and rising sea levels will accelerate this effect.
Links courses are in the front line of this.
Using renewable energy sources rather than fossil fuels is in the absolute interests of the links course, surely?
Concerns are expressed regarding disturbance to the ground and to the cycling and walking paths.
These concerns are real, but surely the same groups will remember what ground disturbance and path closures applied during the recent Open tournament.
Perhaps it is not irony but a selective memory, but it really rings false.
I trust and hope common sense will prevail to assist this cable laying.
For example, moving then replacing turfs along the cable trench in short sections, allowing overnight working to shorten all inconveniences to golfers and the general public.
This is a lot smaller inconvenience than the Open, so wouldn't it be better to work together, rather than all sides incurring large fees at the lawyers office, along with the delays it will bring.
Iain MacDonald.
56 Grove Road,
Broughty Ferry.
UK heading for new recession
Madam, – As Boris Johnson looks set to romp to victory as new Conservative Party leader and thereby receive the keys to Number 10, he is about to form the most fragile government seen in Britain for almost 50 years.
What's more, he'll do so burdened with one huge problem that not even Mrs May had to face – a recession.
The Bank of England governor Mark Carney recently noted the UK economy didn't appear to be growing at all and is heavily reliant on household spending.
The statistics back him up. The most watched surveys of British businesses suggest the private sector is already shrinking.
In the construction sector, which has just had its worst month since the immediate aftermath of the financial crisis, they now talk of "quicksand".
Manufacturing has been pole-axed, while output in the much larger service sector things looks moribund.
Indeed, the early evidence from some quarters suggests that the UK is already in a recession.
This is against the background of a ruling party on its last legs in a political system sapped of nearly all legitimacy.
A country that has spent most of the decade mired in the weakest recovery for 300 years which is now giving way to recession, while it continues to pledge tax cuts for the richest.
And a political class that still kids itself it can get a better Brexit deal out of the rest of the EU, or even that it will survive a crashing-out with only a few scratches.
The bluff and bluster of Mr Johnson will very quickly be found out and his tenure as prime minister will coincide with a devastating time for the UK economy.
Alex Orr.
Flat 3, 2 Marchmont Road,
Edinburgh.
May's positive legacy unclear
Madam, – Outgoing prime minister Theresa May talks of her regret that the Conservative 2017 general election campaign was run in a way 'that wasn't really me' (Readiness of MPs to bend was misjudged, Courier, July 13).
Therein, of course, lies the reason her term in office has been relatively short. The Brexit negotiations in the last two years have been complex but befuddled by her constant inability to see round corners.
In the 2017 election she was lulled into a false sense of security by what appeared to be an enormous opinion poll lead.
Her pre-election preparation seemed to amount to no more than a walk in the Welsh hills.
She didn't seem to bother about the electoral tactics or the importance of clear, simple presentation.
Thus she was taken by surprise by Labour leader Jeremy Corbyn's appeal to young people.
She was also stymied by the reaction of the elderly to her proposals for social care and changes to the index linking of pensions.
Before that election tussle began she should have taken advice on presentation.
It appears a reluctance to delegate has been her downfall in terms of both electioneering and negotiation.
She deserves some praise for resilience; but that is only a quality if she is actually leading in the right direction.
It is difficult to see what positive legacy Britain's second woman prime minister has left.
Bob Taylor.
24 Shiel Court,
Glenrothes.
Major impacts of foreign policy
Madam, – Last week there was the controversial boarding of a tanker off Gibraltar; recently we had the high-handed "dressing down" of the Chinese over Hong Kong, and last February we had the notorious "send a gunboat" speech which prompted the Chinese to cancel trade talks with the UK.
The baiting of the Russian bear continues apace and could have serious repercussions.
There have already been unsourceable cyber attacks on the UK, and if the provocative language of Jeremy Hunt's Foreign Office continues, we might be in for more.
Hunt and Co. really are asking for it, and if Scotland spends some of the coming winter freezing in the dark, we'll probably have them to blame.
George Morton.
29 Hudson Road,
Rosyth.
Be brave and belief will come
Madam, – In his letter of July 13, (What kind of choice is this, Courier) Brian Batson of Forfar has overlooked the optimistic adage, "Tell a person they are brave, and they will be brave."
His letter deals with the alternative outlooks we risk if we accept politicians' own self-valuation.
Those out of power claim all will be wonderful when we have ejected the present scoundrels and everything will become dramatically "right" once they assume the burdens of state.
In reality, national recovery depends on our own efforts rather than on the policies of the party in power.
All they can do for prosperity is to help and encourage us to be optimistic, not defeatist.
It's up to us Scots to make success, and we can do it, since we are brave!
Dr Charles Wardrop.
111, Viewlands Rd West,
Perth.
Council at fault over festival loss
Madam, – I feel it is highly unlikely that any company would wish to participate in any type of music venture in Perthshire and Kinross after the way Geoff Ellis was treated by the council.
He and T in the Park were hounded incessantly for one thing or another and an imaginary health and safety issue. The pipeline concerned runs under all sorts of areas where health and safety could be a problem. So why pick on Balado?
The festival was tweaked around away from the pipeline but still the council succeeded in making the promoters so fed up they decided enough was enough.
It really is no surprise then that Geoff Ellis has washed his hands of this area and its incompetent council.
Donald Wilson.
Ladeside,
Kinross.