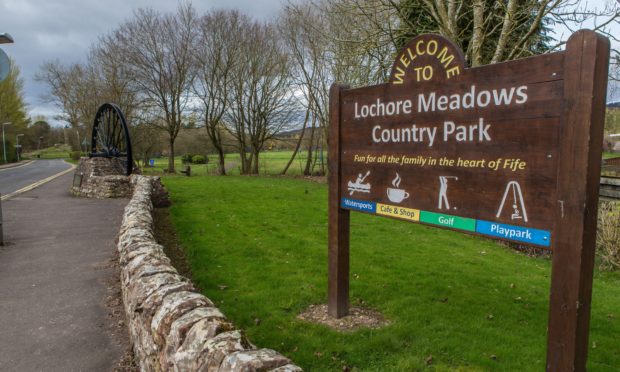 Environmental experts are still investigating the cause of a pollution incident at a popular Fife park.
A scare involving the death of scores of fish prompted warnings for the public to avoid contact with water in Lochore Meadows Country Park's loch.
Just a week after the sun-kissed park enjoyed one of its busiest ever days, people were told to stay out of the water for the foreseeable future.
Around 200 fish were found dead due to an unknown contaminant last week.
The alarm was raised on Friday morning, and signs have been erected near the water's edge making people aware of the situation.
While a number of water samples have been taken and studied by the Scottish Environment Protection Agency (Sepa), there have been no conclusive results garnered from the research.
Perch, pike, roach, eel and mussels were among the fish to have perished due to the pollution incident.
A spokeswoman said: "Every day Sepa works to protect and improve Scotland's environment, and takes reports of potential pollution very seriously.
"We have been made aware of a fish kill in Loch Ore, in Fife, and are working closely with partners, including Fife Council, to establish the cause.
"Sepa officers have taken samples, which will be carefully analysed to assist with the investigation.
"If anyone is concerned about any incidents of potential pollution please call our 24 hour Pollution Hotline on 0800 80 70 60 or use our online reporting form at www.sepa.org.uk/report"
IN FULL: As many as 200 fish could have died at Lochore Meadows prior to warning to public
Water hygiene testing will continue at the site and it is not clear when the warnings will be lifted.
The lack of clarity regarding the state of the water could put this weekend's first Lochore Off Road triathlon event in jeopardy, as one of the full distance legs involves a 1,000 swim in the loch itself.
Organisers of Sunday's race are said to be monitoring the situation closely before making any further announcements.
Park manager Ian Laing confirmed: "Sadly the water at Lochore Meadows continues to be out of bounds while investigations continue.
"Water testing is continuing to establish why a large number of fish including eels and mussels have died in the loch.
"Since then SEPA have been investigating and, as a precaution all recreational activities in the loch have been cancelled including canoeing, kayaking and open water swimming.
"We hope to have more information in the next few days and will continue to keep in touch with groups and event organisers who use the loch."
The loch is popular with weekend thrillseekers and hosts sailors, kayakers and canoeists through the Fife Council-run OnBoard sailing centre.
It also hosts Sunday meetings of the Scottish Newfoundland dog club, which features the pets swimming with their owners and attracts anglers, walkers and families.
Earlier in the summer, there were warnings to keep dogs out of the water due to a bloom of blue-green algae.