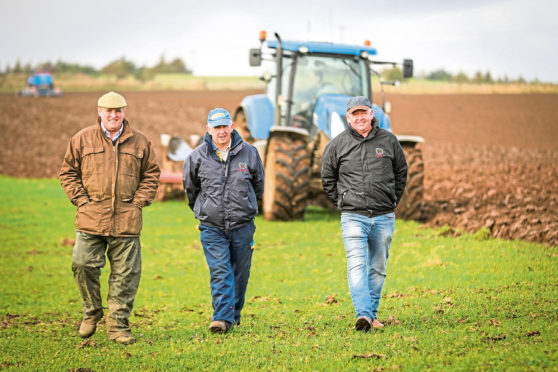 Ploughmen describe the deep loamy soil around St Monans as "God's land" and next weekend 165 of them will think they are in heaven when they get the chance to turn over some of the country's finest acres.
Bowhouse, part of Balcaskie Estate, is hosting Scotland's Ploughing Championships and the event's chairman, Willie Grieve from Cupar, says the precision ploughmen have a treat in store.
"It's flat, rich, stone-free land and, even if we get torrential rain this year, we'll have no problem getting the equipment on the fields," he said.
Bowhouse Estate manager Sam Parsons said the land was used in milling wheat this year and preparations for next year's crop have been delayed in order to hold the prestigious competition.
"It's a great thing for us to be involved in because Bowhouse is about connecting farming to our end users, something we're already doing through regular food markets," he said.
Thousands of spectators are expected, not just to follow every furrow of the world-class conventional and reversible ploughing but to watch four pairs of Clydesdales and a steam engine from Leven working the land.
The top plots to look out for will be those of Dave Carnegie, Andrew Mitchell senior and Andrew Mitchell junior, the local men who have won numerous world championships.
David Carnegie from Laurencekirk first won the world championship for reversible ploughing in Ireland in 1996, and Andrew Mitchell Sr has won the world reversible seven times then this time "jumped the fence" to take the conventional champion crown in Minnesota in August.
Andrew Jr won the world conventional honour in 2016.
The final of the European vintage championship is another draw, with 35 ploughmen coming from Belgium, Denmark, Norway, England, Wales, Ireland and France.
The organisers admit ploughing is predominantly a participant's sport and John Walker, the vice-chairman of the championship committee, said it could be difficult for bystanders to understand the thrill of the competition.
"But when a plough is going well, there's nothing better or more satisfying than watching the front furrow turning in," he said.
"For the person on the tractor, every round you do is different across the whole day, and that goes for both competitive and commercial ploughing."
Willie Grieve said the sport of ploughing was in his blood and he has been competing at matches for 44 years.
"My late father, my grandfather and my great-grandfather were all competitive ploughmen and I have an 82-year-old uncle who is still ploughing and will be at the competition," he said.
Both Mr Grieve, a drainage and ground works contractor, and Mr Walker, who farms at Airth, have been visiting and preparing the site for the competition for weeks and are looking forward to sharing their passion for ploughing with the general public.
However, just hours after the competitors have left, estate tractormen will move on to the fields to level out the artwork.
"It will be a shame to cover it all up," said Sam Parsons.
"It'll be ploughed to a better standard than any of us will have seen, but we might have to plough it all out and begin again."
Entry to the competition, which is sponsored by Kverneland and Lemken, costs £8 for adults (£6 concessions) and children under 14 are free.
nnicolson@thecourier.co.uk