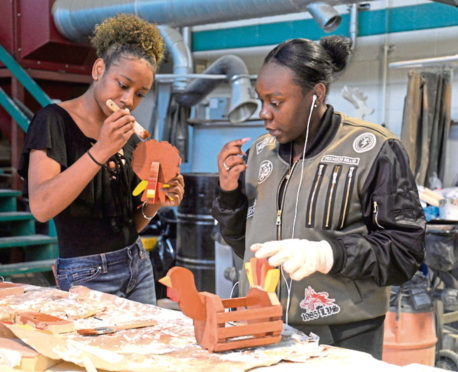 Farming Editor Nancy Nicolson continues her series from the American Midwest with a report on an institution which puts agriculture at the centre of education
Just 25 minutes away from the skyscrapers of downtown Chicago, a secondary school teaches urban pupils how to weld farm machinery, operate agricultural tools – and even castrate piglets.
The timetable also incorporates animal nutrition and reproduction, the basics of growing horticultural plants, food processing and the concepts of agricultural economics.
And while social studies, a foreign language, PE and art are also studied, most of the subjects are taught through the lens of farming.
The Chicago High School for Agricultural Sciences (CHSAS) is one of a network of schools across the United States whose mission is to educate and prepare urban students for professions and careers in agriculture.
At a time when British farming is struggling to source labour and many children do not understand how food is produced, and when the industry is under constant criticism – tonight's Apocalypse Cow programme being just one example – there is much to be learned from the model.
The school was established in the 1980s. When there was an exodus of young people from farms and growing concern over the future of the industry, a network of schools like CHSAS was established to help channel students into careers traditionally filled by farm children. The CHSAS approach is now being replicated across other states.
Deputy principal Sheila Fowler is proud that while the school's focus is farming it also has a strong academic reputation and gets 3,000 applications every year for just 250 new slots.
However getting a place is a lottery and students who have shown no previous interest in agriculture are selected at random.
"They come in as blank slates with zero farm background and knowledge, and after four years a third of them have opened their lives to agriculture in some way, while the other two thirds have an appreciation of where their food comes from," Mrs Fowler said.
"They don't train to be farmers but to have careers in the food industry.
"They go on to declare majors in agriculture, which encompasses everything from food science to agribusiness to communications.
"They have the power to change the image of modern agriculture."
CHSAS has a 35-acre working farm with a handful of farm animals, fish and bees.
Huge workshops are crammed with farm equipment, welders and machinery, and outside there's an orchard and bee hives. The support from major agribusinesses including John Deere, Tyson Foods, Pepsico and Case New Holland is welcomed.
Education here includes hands-on practice and the students appear to savour the opportunities.
"The vet showed us how to castrate piglets and we've learned about the use of GMOs in agriculture," said 17-year-old Amy Sundquist.
"We work with Elis cheesecake manufacturers and Future Farmers of America – which is teaching us how to be better leaders."
Aaya Butler added: "We network at places most school students wouldn't go and attend major agricultural conferences.
"If you graduate from CHSAS it makes you stand out, it gives you an edge."
nnicolson@thecourier.co.uk
Nancy Nicolson's visit was organised and funded by the US State Department.