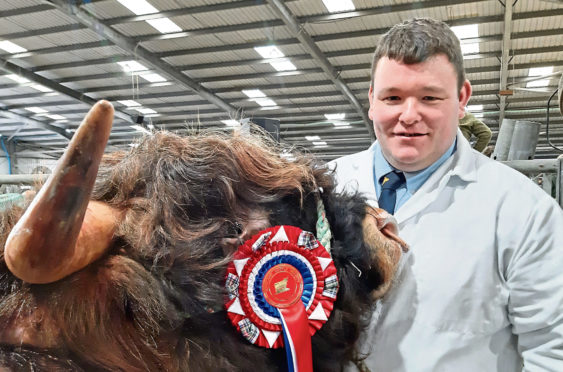 Island ferries were cancelled, trees blocked roads and Oban Mart was battered by gale-force winds, but Storm Ciara failed to make any impact on yesterday's show of 130 Highland cattle.
The animals had been bedded down in the mart since Friday evening and were brushed, polished and paraded in front of show judge Dochie Ormiston, the stockman for the Queen's fold at Balmoral, who awarded many of the top honours to Highland folds in Courier country.
Mr Ormiston chose as his female champion a black three-year-old heifer from Ken and Eva Brown, Ledlanet, Kinross.
Diorbhail Dhubh 3rd of Craigowmill came from the Browns' herd of 50 cows and it was the fourth time they had won an Oban female championship.
The heifer was also judged to be the best turned out animal at the show and described by the judge as "outstanding in every way".
Mr Brown said his family had been breeding Highlanders since the early 1900s and he had been looking after them for 32 years.
In reserve place was Sidonia 7th of Balnabroich, a rising three-year-old heifer from Michael and Sally Nairn, Strathardle, Blairgowrie.
The male champion was Jon and Queenie Strickland's two-year-old sire, K2 of Cladich by Campbell of Tilbouries, shown by proud fold manager, Stuart Campbell.
Cladich sits on the edge of Loch Awe at Dalmally and Highland cattle have been bred there since 1882, but this was the first time they have been awarded a male championship rosette.
"We specialise in females and calves in particular, and we've had championships with them, but this is the pinnacle," said Stuart.
"I've been coming here since I was a wee boy and winning this championship has been my dream. We're really chuffed."
The Strickland family bought Cladich and its foundation four cows 19 years ago and the fold has now grown to 40 females.
The reserve male champion was Blizzard of Lagg, a 30-month-old sire owned jointly by Gyle Lawrie of Lairg and Donald MacNaughton of Kelty.
The young handlers competition attracted an even bigger entry than usual and was won by Tiree girl Emily Anderson.
She will be given the honour of leading the Highland cattle breed in the grand parade at this year's Royal Highland Show in June.
The sale of the bulls and females will take place at Oban Mart today, at 10am.
nnicolson@thecourier.co.uk