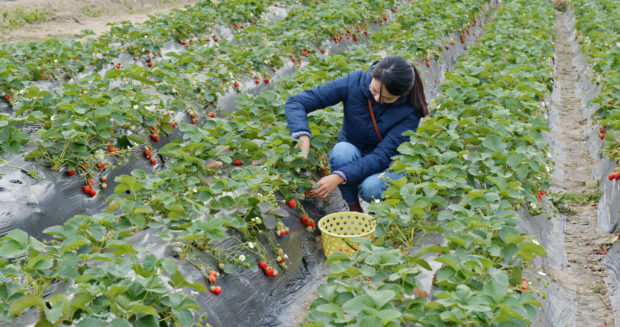 Soft fruit and broccoli farmers are holding back on planting crops this week amid fears there won't be enough labour available to pick their produce at harvest.
Growers across Angus, Perthshire and Fife are urgently appealing for people who have been laid off as a result of the Covid-19 crisis to get in touch as thousands of farm workers will be needed from May onwards, and restrictions on the movement of people from Eastern Europe risks produce being left to rot in fields.
One of the UK's biggest strawberry growers, Stewarts of Tayside, has already advertised for hundreds of local workers, and Carnoustie fruit grower James Porter is working alongside NFU Scotland (NFUS) to establish a web page which will link farmers with those seeking local work.
Mr Porter said the fruit sector was looking at recruiting from within the hospitality sector in particular, to give work to people who have been made redundant and help ensure vital fruit and vegetables are grown.
"There will be issues, as local people won't be trained and we'll probably face a high turnover because they aren't used to doing these types of jobs, but it's vital we keep the food supply chain going," he said.
Crunch decisions on whether to plant crops like broccoli need to be taken imminently, but Mr Porter said farmers face a huge gamble as it costs £1500 per acre to establish a crop – a commitment of £500,000 for 400 acres – and only 10-20% of the seasonal workers required by the industry are currently in the country.
He added: "We are looking to government to underwrite these crops the country is going to need later in the year, and calling for farm workers to be recognised as key workers."
Alan Wallace of Cupar-based East of Scotland Growers said the co-operative's 16 broccoli farmers faced a serious dilemma, but added: "Farmers tend to be very committed, and if they've been growing a crop for 20-30 years they tend to carry on, even when times are tough."
The NFUS recruitment page will be live on their website fus.org.uk soon.
nnicolson@thecourier.co.uk