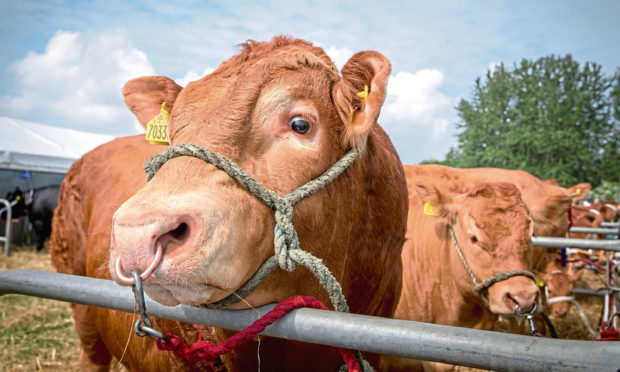 The countdown to next month's online Scottish Agricultural Show has begun – and already the event's dedicated website has been inundated by farmers finding out how to enter cattle, sheep, horses, goats and poultry.
The show on July 3-4 , which is being hosted by The Courier and Press & Journal, is the closest the Scottish farming industry is going to get in 2020 to enjoying the competition, fun and companionship of the summer farming events or winning a unique rosette to pin on the show kist.
Scroll up! Scroll up! Here's everything you need to know about Scotland's first virtual agricultural show
The Royal Highland and Agricultural Society of Scotland (RHASS), organisers of the Royal Highland Show, were quick to jump on board DC Thomson's plans for an online event to bring the farming industry together and give the nation's stocksmen and women an opportunity to feed their show ring addiction.
RHASS director and Angus farmer Kay Adam said: "I have been going to the Royal Highland Show for over 50 years and I share in the massive disappointment that we will not be meeting up at Ingliston.
"In these unprecedented times we have to consider what we can do within the confines of social distancing and I am delighted that RHASS is supporting the DC Thomson virtual show," she said.
"Excellent judges have been lined up to take part and I really hope many of the breeders who had hoped to parade in the show rings this summer will get behind the camera and feature on the small screen in this virtual show."
Over four days every June the Royal Highland Show is a highlight of the rural events calendar with more than 900 competitions, tempting arrays of machinery and food, music, entertainment, and the pinnacle for farmers and city dwellers alike is the grand parade of preened-to-perfection livestock.
The online show is sponsored by EQ Accountants and as well as livestock and vintage machinery classes there is a dog show, virtual trade stands, machinery, food and drink, and a beer tent.
All that's required to enter any of the livestock classes is a video to be taken of an animal according to the instructions set out on the website, then uploaded to YouTube. The website also has profiles of the judges and a clear outline of what they're looking for in their champions.
The show is open for entries until June 19 and the £5 entry fee for each animal will be donated to the Royal Highland Education Trust which works to teach children about food and farming.