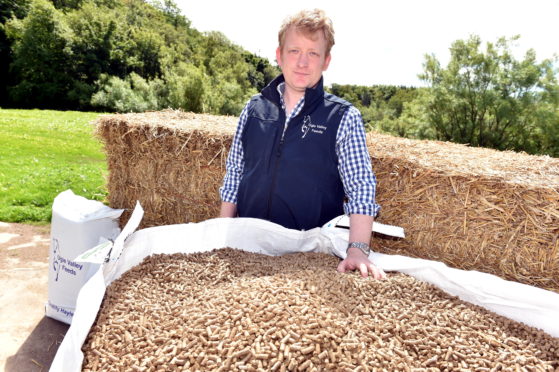 The Mackintosh family isn't afraid of change or trying something a bit different and its latest venture is testament to that.
Fraser Mackintosh, along with his wife Helen and his parents Jim and Allison, runs a hay and haylage firm, Ugie Valley Feeds, based at Mains of Buthlaw Farm, near Peterhead.
The family runs a 1,200-acre arable enterprise and a further 500 acres of grass is mown each year to produce hay and haylage, mainly for the equine market but also for crofters and farmers in the Highlands and islands.
They have innovated over the years with various pieces of equipment to make their hay and haylage products more accessible to customers, and this approach has now been applied to their straw enterprise.
Fraser describes transporting straw as an "expensive caper" especially when it is going to customers in places such as Shetland and South Uist.
To tackle this, and also provide a new outlet for straw from the farm's extensive arable enterprise, the family purchased a straw pelleting plant.
"The opportunity came up to purchase this straw pelleting plant from a couple near Gamrie," said Fraser.
"It's given us something else on the farm to support me, my Dad and the three guys working with us.
"We are the only straw pellet producers in Scotland."
The plant and all its equipment was transported to the Kinloch Farm site in May and up to 12 tonnes of pellets are currently being produced on site every day, However there is scope to expand production in future.
"You feed big square bales of straw into the machine and it chops up the straw, extracts the dust and then it makes it into pellets," said Fraser.
"The heat in the process of making the pellets also kills off any bugs in the straw."
He said the pellets are packaged in 500kg or one-tonne bulk bags, or in smaller 15kg retail bags.
The family sent some to a number of its larger equine customers and feedback has been good.
"The pellets are mainly aimed at the horse market but there's definitely a place for them with people that show cattle that would buy wood shavings for bedding, and they are also good for crofters," said Fraser.
On future plans, Fraser says the family is looking into the option of treating the pellets, an example being a garlic treatment for using the pellets as feed for horses.
The family is also looking into using the equipment to produce grass pellets for use as a feed for both horses and sheep.
Fraser said he hoped straw pellets would help provide some price stability for customers.