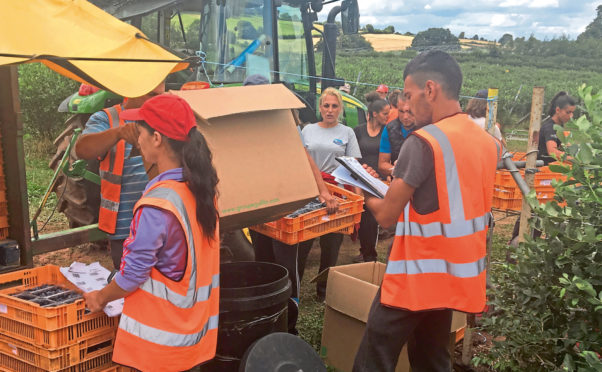 A UK Government announcement on an expanded Seasonal Agricultural Workers Scheme for the horticultural sector could be imminent, according to a key industry lobbyist.
The National Farmers' Union vice-president, Tom Bradshaw, told a Fruit Focus webinar he believed that after months of lobbying for a "dramatically expanded" scheme, one would be forthcoming .
"We believe we will have an expanded scheme for next year, but we're working with a government that doesn't have to listen because it's a very powerful government," he said.
"I can only reassure you the case has been made."
However, Mr Bradshaw said the unemployment fallout from the pandemic meant the government would also expect growers to utilise British labour to supplement recruitment from overseas.
He said the industry would have to think how it could best utilise some of that resource.
"We need to learn lessons from the Pick for Britain campaign," he said.
"There were some successes, and some businesses early in the season had nearly a third of their workers from the UK workforce.
"We're working with the horticulture board (AHDB) on what a campaign could look like next year, and also how to target the people who worked out last year."
The union's horticulture committee chairperson, Ali Capper, insisted the union had made government aware of the struggles fruit growers had with inexperienced UK workers, who, she said, were around half as productive as experienced returning labour, and lasted an average of two to three weeks in most businesses.
"When you have a six or nine-month season, that's just not good enough," she said.
"I can assure growers those numbers are being put forward to government."
nnicolson@thecourier.co.uk