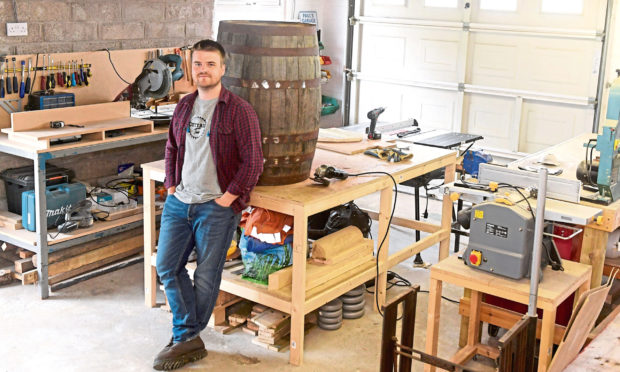 The benefits of having a farm base are being recognised by a growing number of non-agricultural businesses in Scotland.
And while agritourism, wind turbines and shops have become common on farms, the industry is also starting to reap the benefits of rent for buildings that are no longer required for agriculture.
Aberdeenshire-based furniture manufacturer Cottage Two began operating from premises on a farm near St Cyrus four years ago.
The firm makes bespoke furniture, including dining sets and desks from steel and reclaimed timber. One of the company's signature pieces is a whisky cask repurposed as a drinks cabinet.
Founder Paul Kelman said working from a rural base rather than an industrial estate brings a number of advantages and fits in with his company's ethos.
He said: "Working from a farm means we have access to more space and heavy machinery to move stock.
"The countryside also provides an excellent backdrop when we photograph completed items."
Mr Kelman said using local suppliers for a range of material including steel and wood helped benefit the wider economy, while clients visiting the workshop to see progress on their commissions also visit nearby businesses.
He said: "In some ways, locating in a rural setting is a unique selling point, but it has other benefits including greater flexibility in how the workshop is used and lower overheads than might be expected from an urban industrial estate."
Cottage Two, which is moving to larger premises on the farm, does not have a showroom, but clients can visit by appointment.
"Most of our customers find us through the internet, so being a bit off the beaten track doesn't really impact us," he added.
In Angus, a firm specialising in luxury interiors set up in a former stone-built garage near Monifieth three years ago.
Rachel Clenaghan said the business, which has four staff, attracts customers from as far afield as Perth, Aberdeen and Fife.
She said: "The rural location and size of the premises means that it is much more an experience for customers.
"Parking is easier here and the shop is never packed full, so we have more time to spend with customers. This is important when some of the clientele can be a little older who don't feel rushed.
"Customers have also felt safer shopping here when the Covid-19 restrictions were in place and we saw an increase in business at this time too."
Ms Clenaghan said the firm also has a strong online presence and regularly receives international inquiries.
jmillar@thecourier.co.uk