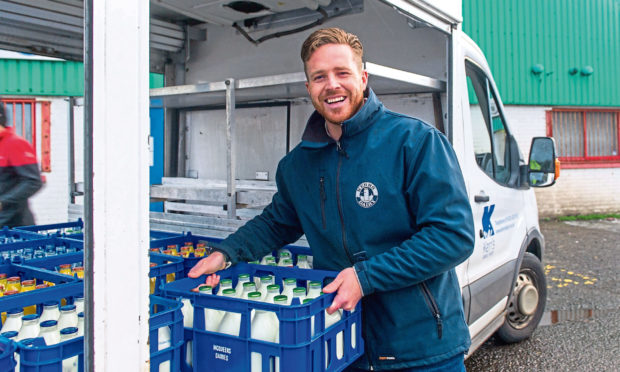 Concerns over the availability of milk and other dairy products in shops during Covid-19 restrictions saw a surge in demand for doorstep deliveries.
A study by research firm Kantar suggests the number of customers signing up to the traditional service leapt from 527,000 to 716,000, with some sites closing their doors to new customers as demand outstripped supply.
While the research also found the easing of restrictions saw a fall in the number of customers, sales remained higher compared to the beginning of the year.
A demographic shift in the customer profile saw younger customers and families move towards delivery compared to the more traditional customer base of older, wealthier consumers.
Concerns about availability may have been the driving factor for many but the new shopper is also factoring in other aspects such as quality, sustainability and buying from local companies.
The experience of Dundee-based Kerr's Family Dairy has supported the research.
Director Kelvin Kerr Jr said the firm was attracting around 300 new delivery customers a week at the height of the pandemic and while new subscribers were not at the same rate, customer sign-ups remain higher than pre-Covid levels.
The firm, which has a workforce of 40, has 11,000 doorstep customers, with 6,000 of those in Aberdeen where the dairy opened a new delivery depot in May. As well as milk, the firm saw an increase in demand for other delivered products including eggs, butter, yoghurt and cheese.
Mr Kerr said the use of glass bottles for milk was also attractive to customers at a time of increased environmental awareness.
He said: "In 2018 we sold 750 glass bottles of milk per week and by 2019 that had risen to 3,601 per week – today that figure is 50,000 glass bottles.
"People also like to support local businesses and local people – we are seeing farm shops opening and I think customers' mindsets towards shopping have changed."
Organic dairy farmer William Willis of Forest Farm in Aberdeenshire said milk consumption had risen almost to pre-Christmas rush levels during lockdown, though sales have fallen recently.
Mr Willis said: "People are more interested in where their food comes from and in products that are not available in the supermarket.
"For example, our milk is batch pasteurised at lower temperatures and non-homogenised to preserve its natural goodness."
Mr Willis said the firm has just laid the foundations for bigger premises as it moves to increase its product range and is likely to take on more staff in the near future.