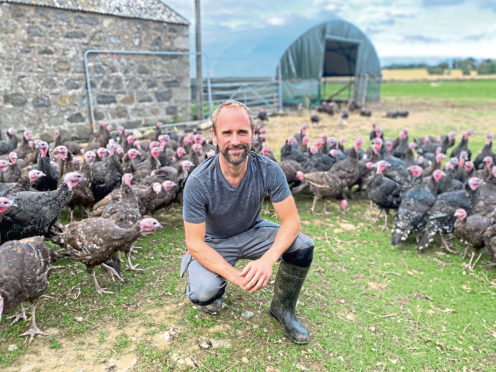 This Christmas is likely to be unlike any other for most people – but one Aberdeenshire farm business is certain that even small get-togethers will be relying on the classic turkey dinner.
Despite the continuing uncertainty, Craig Michie, a fourth-generation farmer from Lochend of Barra Farm, has seen a 160% rise in orders for his free-range turkeys for 2020.
The Michie family have received Great Taste Awards since 2016 and have seen their small farm diversification business – which started with a loan – expand exponentially, with 2,700 free-range turkeys now reared annually.
When the Michies began Barra Bronzes eight years ago, Craig said that the welfare of the turkeys was the foremost consideration for the business.
The birds arrive in June and are reared for 27 weeks on a high-quality diet of the farm's home-produced barley, dried oats and wheat.
Craig said: "For me, it is important that a Barra Bronze bird is reared in a natural environment, which is outdoors in the open air.
"The farm is around 420 arable acres, and being free range keeps everything stress free.
"It's 10 metres to the slaughter house, where all the birds are hand-plucked, hanged and matured like you would with game, all in the same place.
"This way we have full control and oversight of the quality and care at the farm."
Most sales are mail order or collection from the farm.
Craig said: "We've worked really hard with our online presence and we are now ahead of the game, with 80% of our sales being made online.
"We find that most is repeat business, and year after year more come to us, as the profile of the Barra Bronzes brand is raised along with being a brand associated with high quality."
The pandemic means the Michie family's plans for expansion have had to be put on hold this year, but they say they are still keen to expand.
Craig added: "We would really like to double the size of the enterprise, focusing on investing in state-of-the-art facilities, and we know that this will be a sizeable capital investment.
"The Clydesdale Bank has been with us from the beginning, so they will be our first port of call.
"We are a seasonal business, but Christmas will always be a certainty for people – even in uncertain times."
Meanwhile, as preparations continue for the Christmas season, work on the farm is having to adjust to Covid-19 guidelines, which includes relying on family and friends to help with plucking.
While most Barra Bronze turkeys are sold online, some are also distributed to butchers and restaurants in the Aberdeenshire area.