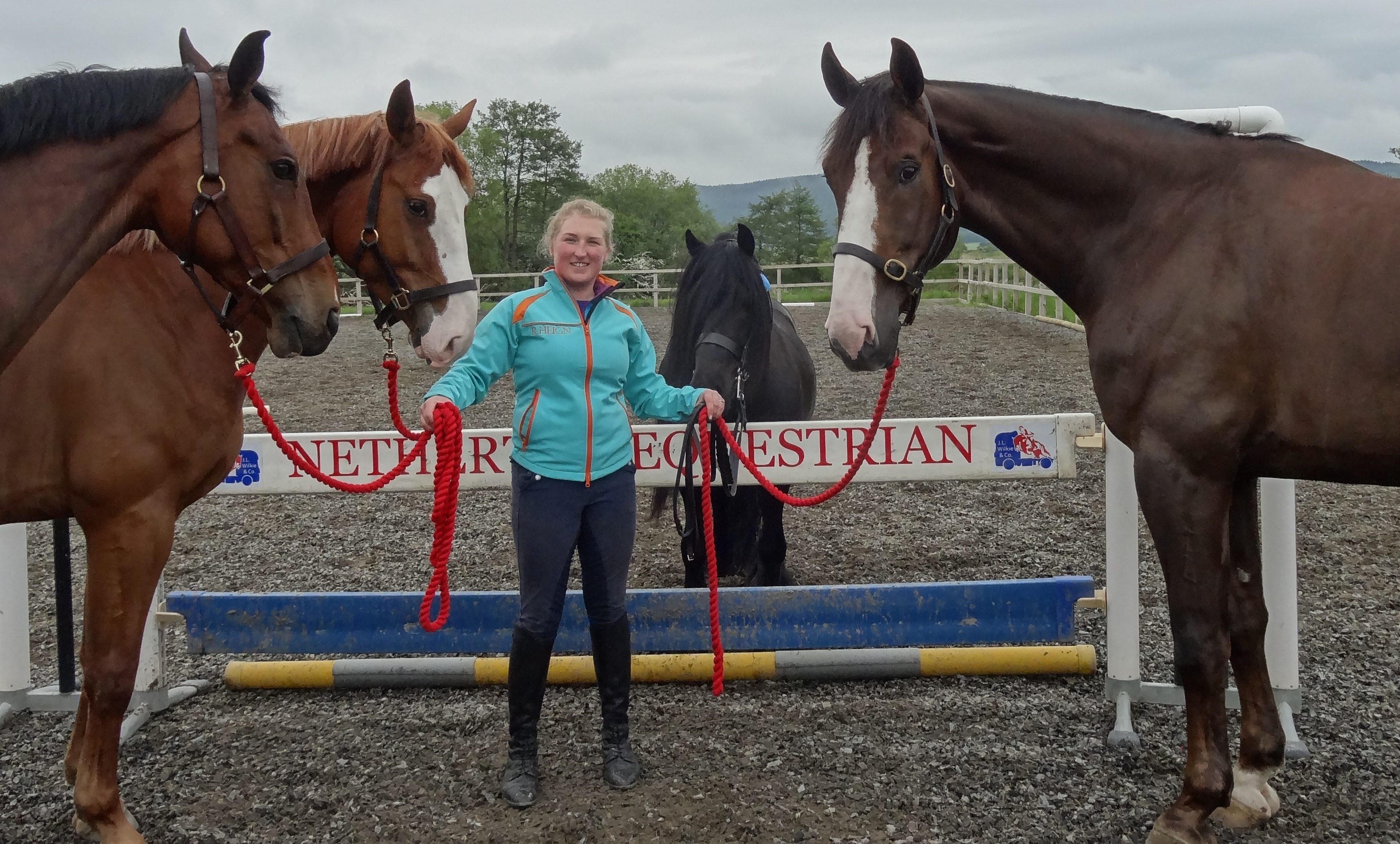 The light horse classes at the Royal Highland Show are a huge attraction for both competitors and spectators. For many riders, it is the highlight of their year and can fulfil a lifelong dream to ride at the Highland.
The packed schedule at this year's show includes 36 light horse sections, with nine Horse of the Year Show (HOYS) qualifiers and 1827 entries, not including show jumping.
One local rider who will be riding every day at this year's show is Kirsty Aird from Kirkforthar, Markinch. Kirsty is now based at the Wilkie's yard at Netherton Equestrian near Abernethy where she has 10 stables full of both her own and clients horses and ponies.
The ability to turn her hand to riding all shapes and sizes of animal is Kirsty's speciality – from sport horses to Clydesdales and working hunters to Fell ponies.
This year Liz Smith's working hunter, Toronto returns to defend his title while Kirsty rides another of Liz's in the four-year-old sports horse class. Susan and Sarah Fox's Don Diego I is on the waiting list for the popular five-year-old sports horse class.
Kirsty's grade A showjumper, Jumping Mac Flash (Mac) is entered for a class every day. Last year he was fifth in the Young Riders final and as it is Kirsty's last year in the class, she is keen to do well this year. He has also qualified for the Grades B and C final and will compete in the Thursday Talent Seekers class and Saturday's Grand Prix.
On the showing side, she has been campaigning two Fell ponies for Stuart and Gwen Rae. The stallion, Greenholm Emblem and the mare, Bracklinn Melissa are both entered for the HOYS M and M ridden class so Chris McMillan will ride the mare.
Friday afternoon at the show will be busy for Kirsty as she rides Erika Hay's Connemara, Falfield Pocket Rocket followed by Catherine Lindsay Brown's Connemara stallion, Josy Jump in the HOYS M and M workers. Pocket Rocket is also contesting the ridden classes on Sunday.
Kirsty has a lot of help from mum, Trude and dad, James in the yard at home and at Netherton and receives training from showjumper Robert Snaddon and she always aims high. The show horses are given time to learn their trade but RIHS and HOYS are the targets for both, while Mac is now aimed at more Grand Prix classes and national and international trials, while she has a young show jumper of her own waiting in the wings and a number of yearlings and two-year-olds to bring on.
Kirsty also trains Bernadette and Maria McElhinney, who are competing in the working hunter pony classes, so she will also be keeping a watchful eye on them. But if and when she has some down time from the horse rings, Kirsty will be found helping fiancé Kenny Mckeague with his Beltex sheep which he is showing.
Another person with a busy schedule at this year's show is Jo Jack, Wester Newburn, Upper Largo. Not only is she riding two Highland ponies but she is also judging the ridden Clydesdale class in the main ring on Thursday afternoon.
The class, which is a HOYS qualifier for the first time, has attracted 20 entries and Jo said she has been on her exercise bike every night trying to get fit for riding all these giant horses.
A former director of the show, Jo is no stranger to judging at the Highland having placed the ridden Highland's twice and HOYS Mountain and Moorland workers and flat classes too.
This year she is riding her Fife show winner, Margaret of Meggernie for owner, Carlie Rafferty, in the open small height Highlands on Friday and the HOYS M and M class on Sunday. She also has the ride on Bob Davidson's large height Trowan Maverick on Friday.
One of Scotland's top junior showjumpers, Fraser Reed (15) from Balmullo near St Andrews has not only qualified two 148cm ponies but also a horse for the Foxhunter class. He is likely to be the only junior riding in the adult classes and is looking forward to riding Amadora JX which belongs to Johnny Aird.
The highlights of Fraser's career so far came last year when he won both The Royal Highland and The Royal International Horse Show at Hickstead on Gordon Bowden's 148cm pony, Bay Friend, which has now gone to Gordon's grand-daughter, Vicky, to jump.
This year Fraser will be trying to repeat that success with either Jiminy Cricket or Quilitymaes which have both qualified for the Highland and Jiminy Cricket has also already qualified for Hickstead.
Fraser stables his ponies at Edenside just outside St Andrews and is trained by Raymond and Alastair Gatherum. He attends Bell Baxter High School and was delighted to recently be presented with his colours and top sporting award.
An agricultural officer with the Scottish Government, Caroline Orr from Halbeath Farm, Dunfermline, has been riding at the Highland Show since 2002 when she won the part-bred Arab championship.
She has had plenty of success with various horses since and in 2013 rode her intermediate worker Laura's Pride in the HOYS horse workers class to achieve the only clear round of the day and win. Caroline is out of intermediates now but her other 158cm, Victor IV has been ridden for the last two years by Holly Miller. In 2014 he was champion at the Highland and went on to be reserve champion at Hoys and last year he was again champion at the Highland. This is Holly's last year riding him and she will be hoping for a hattrick.
This year Caroline is riding her mother, Nancy's Beseeka Red Hot Chilli Pepper in the working hunter class first thing on Thursday morning. He was second last year under Jo Ainsworth. Caroline is also hoping to qualify him for the Foxhunter at the last minute having just missed out on qualification at Fife Show earlier this month.
Horses are not Caroline's only love however, as she has a small pedigree Aberdeen Angus herd of eight cows established from the dispersal of her father, Robin's Halbeath herd in 2013. She hopes to enter the Highland next year with some of her own Keirsbeath breeding.