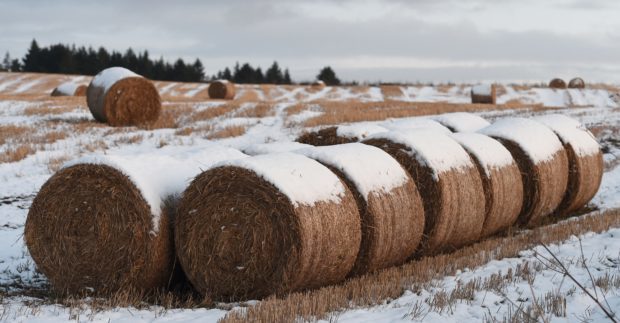 Increased demand for straw, coupled with a shortage of the product as a result of last year's wash-out harvest, has resulted in the spot price of straw rising by around £50 a tonne, claims a new report.
The straw and forage study was conducted by SRUC on behalf of the Scottish Government's agricultural weather advisory panel.
It found that spot market straw prices were up around £50 a tonne and current prices were around £130 a tonne delivered in the central belt, with more remote areas in the west and north paying another £15-£20 a tonne, and the islands more again.
The report also estimated that an example 110-cow upland suckler herd may have incurred additional costs of around £8,000 this winter due to higher straw use, from the extended housing period, and higher straw prices.
This, claimed the report, caused a potential reduction of 19% in beef
enterprise gross margin.
The report also warned that for every week that livestock turnout to grass is delayed, the demand for straw could increase by 36,000 tonnes at a cost of around £5 million.
It also set out a range of strategies for farmers to reduce straw use and
minimise the risk of future higher costs.
These included increased use of slatted housing; increased growth rates to reduce the required length of housing period; and increased use of alternatives to straw such as sand and woodchip.
Rural economy secretary Fergus Ewing said the panel will consider the report.
NFU Scotland president Andrew McCornick, said: "This report is a
significant part of the puzzle in terms of how we look to adapt to poor weather and will certainly be something we will look to in the future to advise members."