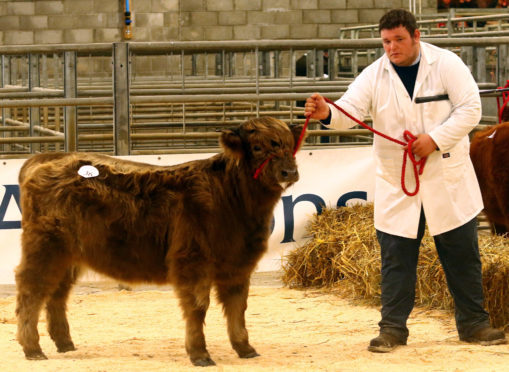 European hobbyists' love affair with ornamental Highland cattle showed no sign of abating at Oban when at least three of the top-priced lots were bought for new homes across the Channel.
Undisclosed German buyers paid a new breed record price of 4,000gn for eight-month-old cal Sonasag 2nd of Cladich, from Queenie Stirickland's Cladich fold at Dalmally.
Two more from Cladich, at 3,200gn and 3,000gn, also went overseas.
Mrs Strickland, who has been breeding Highland cattle on poor quality land on the edge of Loch Awe for 18 years, made no apology for specialising in "sweet young heifers that are manageable, don't run away and have nice heads" specifically for the European market.
"Our typical customers are German bankers or lawyers with a few hectares of land who enjoy taking the cattle to summer shows and breeding them," she said.
"Our main markets are in Denmark, Germany, Finland, Italy, France and Luxembourg and the Czech Republic is now interested too."
The previous calf record price of 2,700gn was also for a Cladich-bred animal.
Out with the calf prices, a top price of 3,500gn was paid by Angus MacKay for Dougie Fountain's reserve champion, three-year-old Capleadh Prioseag 11th of Broomrigg.
While Mr Fountain, from Lochmaben, Lockerbie, said he had nothing against the "fluffy" animals favoured by continental breeders, he emphasised it was also important for the breed to focus on developing the marketing of the end product.
"The commercial meat side of the business is what supports the breed and we need more emphasis on the quality beef we can produce," he said. "If the commercial side is right the pedigree aspect will look after itself."
Mr Fountain, a vet, said many commercial farmers were crossing Highland cattle with Shorthorns or Simmentals to achieve better conformation and a bigger carcase.
He added: "People have traditionally been sold the concept that Highland cattle live on fresh air. Well, nothing does that – they won't thrive and grow unless they're well looked after and if you go to some store sales you see some horrible five-year-old Highland bullocks which do nothing for the breed image."
Sale averages: Six three-year-olds averaged £1,995, seven two-year-olds ave £1,347.50, 11 yearling heifers ave £876.75, 25 heifer calves ave £1,120, three cows ave £1,548 and three bull calves ave £805.
nnicolson@thecourier.co.uk