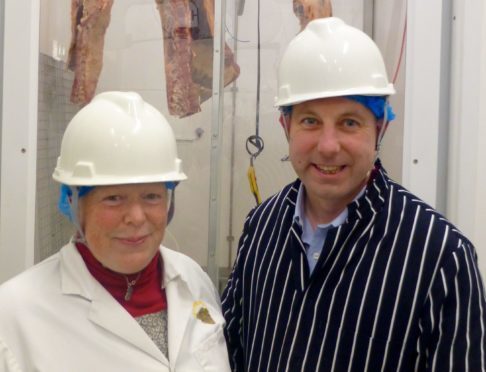 A state-of-the-art on-farm cattle abattoir has opened in the Borders for the exclusive use of a single Aberdeen-Angus herd.
The first cattle have just been slaughtered in the micro facility at Hardiesmill farm near Kelso.
The two animals walked from the field where they were grazing into a holding pen in the woods. From there they walked up a gentle ramp and, lured by a huge poster of a grassy field, entered the killing pen.
The stainless steel interior of the 13m x 9m unit was built at a cost of "hundreds of thousands" of pounds by Robin and Alison Tuke and the abattoir took more than four years to be given the green light by the 11 statutory bodies which oversee slaughterhouses.
The beef from the Tukes' 250-cow herd is already in high demand from international chefs and sells for more than £100/kg.
Mr Tuke said the couple strove to produce the best beef in the world and believed the key to doing that was having cattle that are born, bred and slaughtered without ever having to leave the farm.
"Three things affect the quality of beef," he said.
"They are breed, feed and handling. We have Aberdeen-Angus, we feed them purely on grass and silage and we have been making incremental gains in quality. The glaring bit in the chain was the haulage to Paisley slaughterhouse, which is two-and-a-half hours away.
"We have an excellent haulier and Paisley is a good slaughterhouse, but it's a long way from here. We thought if we could move everything in-house it would make a difference. Welfare is integral to the whole thing and, for us, having our own abattoir removes the variables."
Mrs Tuke said the plan was to kill two animals each week and there were no plans to increase the herd.
She added: We'd love to see more across Scotland. We feel we've been the snowplough others can follow behind, but it's not something to go into lightly. Know what you want from it before you start."
nnicolson@thecourier.co.uk