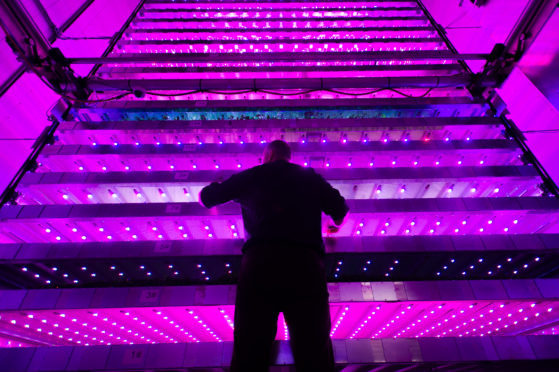 The James Hutton Institute's (JHI) bold ambitions for farming's future have paid off – big time.
The multi millions promised to the institute through the Tay Cities Deal are unheard of in a sector which is accustomed to getting by with the dregs of government spending.
Last week's massive vote of confidence effectively transformed JHI, which has been short of cash but not critics since it was formed seven years ago, into the world's hottest scientific property.
The UK Government has pledged £20 million for an International Barley Hub (IBH) and £25 million for an Advanced Plant Growth Centre (APGC), while the Scottish Government is chipping in an extra £17m. The aim is to get a spade in the ground by the end of 2019 and have the centres up and running by 2022.
The awards are the culmination of years of detailed planning and dogged campaigning, and the phones are now ringing off the hook at Invergowrie. The smell of success and money means everyone, from early-career scientists to plant breeding companies and multinational food retailers, wants to be a part of it.
But what will such major investment achieve?
JHI's ambition is global and transformational and institute leaders claim they aim to do nothing less than write the future for farming. Research will address industry priorities over the short, medium and long term in order to prepare for climate change and find sustainable systems and resilient supply chains to ensure food security.
However these new buildings will not be indulgent ivory towers inhabited by academics alone. JHI won the money because it guaranteed it would bring industry on board to translate fundamental research into innovative products and solutions.
Preliminary designs for the barley hub include a lecture hall for 200 to cater for large sections of industry and the expectation is that organisations like the farmers' union will meet on a site at the heart of agricultural research.
Professor Derek Stewart, JHI's business sector leader for agri-food, is adept at translating the futuristic work at the institute's centres at Invergowrie and Aberdeen to make it relevant to non-scientists.
He is adamant that to keep the projects on track and deliver the best results, input from farmers and stakeholders across the food chain is essential, and big engagement events for all sectors are planned.
"We want to do it with them, not for them," he said. "We want them to come to us with their problems and their ideas. The work here should deliver waste reduction, increased profitability per unit, reduced energy costs and reduced diseases.
"There will be new jobs here but the real potential is for generating jobs nationally, in brewing, the feedstock and food industries. The aim is to get innovation out and used."
A facility like the IBH exists nowhere else in the world, although global research into wheat is concentrated at centres in Germany and Australia. The speed of climate change means new variety breeding is becoming more urgent and JHI claims it will be able to cut new variety breeding timescales from 15 to seven years using new techniques. And while the most obvious beneficiaries of barley research are Scotland's traditional farming, brewing and distilling industries, Prof Stewart says the cereal's health properties mean food products from barley also figure highly in research plans.
"At the moment barley is largely limited to porridge or soup, but can we get it into breads and pastries? Can we create disease or climate change resilient varieties for food security in places like Ethiopia? How do we improve barley for the livestock industry? Can we increase protein levels, or produce barleys that have higher oil content that may compete with oats."
The APGC, meanwhile, will be able to model future environments and climates and it will focus on four elements: vertical farming; controlled environments; storage; and high-throughput phenotyping, which is about rapidly assessing the characteristics of a plant using sensors. The facility will be able to dial up climate "recipes" based on predicted levels of light, gases and other variables then monitor the impact on plant growth, diseases and drought.
Prof Stewart explained: "If we stopped plant breeding tomorrow we'd run out of food very quickly because the climate is changing rapidly and existing varieties can't deal with it. We are seeing agriculture in Europe moving north and we need to know where our food will be produced in future."
More vertical farm towers will be built on site and much-needed new solutions for food storage will be researched, a theme which is particularly relevant for the local potato and soft fruit industries.
Farmers, the levy boards, processors, and engineers and physicists are being brought on board to debate scenarios where sophisticated storage systems would be able to deliver year-round soft fruit from Tayside.
Phenotyping using sensors and lasers will be used to predict quality, techniques which have attracted the attention of global food giants such as Walmart.
Prof Stewart said: "We are looking to develop systems where we can take the person out of the analysis and develop high-throughput analytical systems."
Writing the future of agriculture is precisely what is happening at Invergowrie and farmers should embrace the offer to get engaged."
nnicolson@thecourier.co.uk