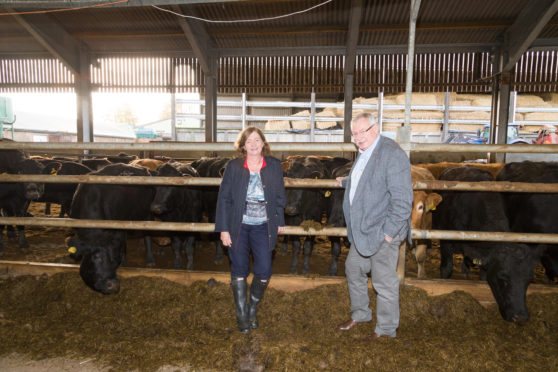 The leader of the Moredun Research Institute (MRI) has pledged to ensure researchers will continue to "attack" future EU funding despite the challenges of Brexit,
However, as the farmer-founded institute approaches its centenary in 2020, scientific director Professor Julie Fitzpatrick has confirmed that finances are already under pressure and action has been taken in order to attract alternative funding to compensate for the likely reduction in EU grants and projects.
Closer collaboration with Scotland's Rural College (SRUC) and growing involvement in the aquaculture and dairy industries are some of the measures that have been put in place to put the institute on a wider international footing.
Prof Fitzpatrick said: "We might not be able to go for EU funding but we can go for worldwide funding from China, the United States and the UK, and if we went just as Moredun we're just a bit too small. If we go with SRUC we have access to a wider pool of research project types.
"And while we are still trying to do interesting and exciting basic research, we're also focusing on knowledge exchange."Brexit
Prof Fitzpatrick said there was a determination among scientists to maintain their close links with European partners and to continue to collaborate and seek joint funding, but a major ¤9 million EU grant to investigate vaccines against parasites led by the institute comes to an end next year.
It is unlikely that the institute will be able to lead such large-scale projects after Brexit.
MRI receives a £6.3m grant from the Scottish Government and also brings in £1.3m from Moredun Foundation activities. However, Prof Fitzpatrick said she was reluctant to use foundation funds to plug the gaps in government funding.
The collaboration with SRUC will address Scotland's climate change targets for agriculture and help develop sustainable and profitable systems which optimise the use of land for grazing and other forms of agriculture, while ensuring the protection of unique environments.
Next year, Moredun Scientific, the commercial arm of the Moredun Group, plans to launch a new service to support the development of products which impact on the health and welfare of farmed fish.
Other projects will look at next generation dairying in Scotland and the institute has also forged closer links with the National Sheep Association (NSA) and the Royal Highland Agricultural Society of Scotland (RHASS).
nnicolson@thecourier.co.uk