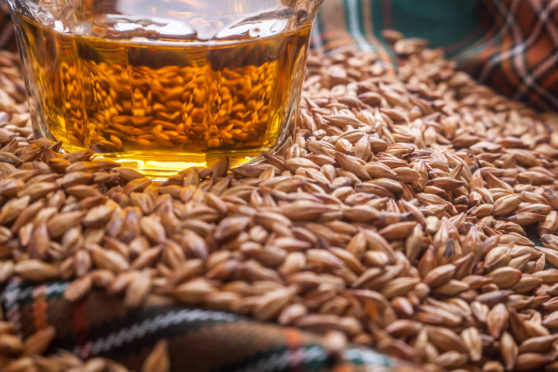 Local cereals growers have been told to count their blessings because they can look forward to the prospect of growing demand for their produce regardless of the final Brexit outcome.
Spring barley producers attending an AHDB/SAC agronomy conference in Scone heard SAC senior rural business consultant Julian Bell predict that the opening of 10 new distilleries in 2019 and another 40 by 2021 would see demand for Scottish malting barley increase by 33,000 tonnes by 2023.
Mr Bell said this growth, coupled with an increase in malting capacity at Arbroath, meant the next peak in whisky demand could be better met by Scottish growers.
He also pointed out that while the booming whisky industry is export-focused it is not subject to trade barriers.
"We've had strong whisky requirement before but we've not been able to capitalise on it because of a limited malting capacity," he said.
"And no one is going to put tariff barriers between farmers in Perthshire and maltings in Angus.
"They need one another and the end market is growing."
However, Mr Bell suggested that sourcing the suitable barley could pose a problem because although yields are improving in trials sites they are not being replicated in commercial fields.
He said farmers could look instead at replacing second spring wheats with spring barley.
"Spring barley has been less profitable than spring wheat, apart from in 2018. But second wheats are less profitable and that's where spring barley needs to target to get the land in," he said.
"If you plug in all the market information and yields don't go up, by 2022 we will need 90% of all the spring barley that's grown just for malting, which is pushing it in terms of what's feasible. And more than half the barley grown is currently used for feeding animals."
He added that variety choice should be pushed further up the "decision tree".
nnicolson@thecourier.co.uk