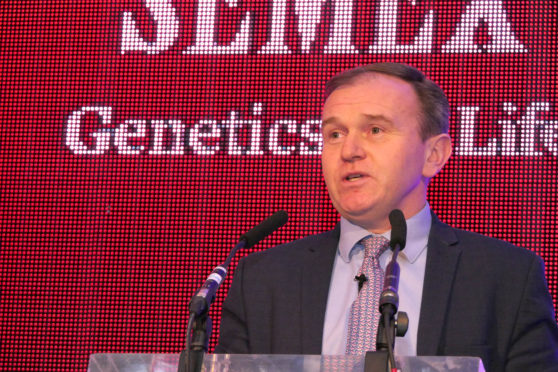 Scotland's Rural Secretary Fergus Ewing travelled to London yesterday in a last-ditch appeal to the Westminster Government to take a no-deal Brexit option off the table to prevent economic "disaster", while in Glasgow Defra Minister George Eustice brushed difficulties aside and described such an outcome as no more than "turbulent".
Quizzed after his address to the Semex dairy conference, Mr Eustice said no deal would ultimately result in "swings and roundabouts" for every farm sector "except lamb".
He claimed some products would find it harder to get into the UK – which would create opportunities for UK producers – although he admitted other exports might be "frustrated".
"But overall we suspect currency adjustments would mitigate the damage for most sectors, although undeniably we are exposed on lamb because of the volume of exports," he said.
"The real question on whether it is catastrophic or turbulent is largely down to how the EU behave," he said.
"If it is in a constructive way and there is goodwill to manage a difficult situation, then it will be turbulent but not necessarily a catastrophe.
"If they act in a reckless way then yes, there could be severe problems at the border."
Mr Ewing, in London to lobby Environment Secretary Michael Gove ahead of today's meaningful vote, said no deal would be an act of "economic self-harm" which could set back Scotland's rural economy by decades.
"To continue down this route, whilst other options exist, and despite being fully aware of the potential repercussions of such a decision, is as reckless as it is irresponsible," he added.
NFU leader Minette Batters also addressed the conference, and said no deal meant "looking into the abyss".
For the dairy farming audience, she translated the impact on cheese exports which would face tariffs of £1,671 /tonne, a figure which would result in an impact of 14p per litre.
Mr Eustice dashed any hope that additional funding which might result from the convergence review into EU monies would be available to top up Scotland's Less Favoured Areas (LFASS) funding to 100% in 2020.
Last week Mr Ewing said any additional funding would be prioritised for this purpose and, if there was sufficient monies, LFASS funding levels would be reinstated to 100%.
Mr Eustice ruled out any retrospective payment as he said each of the devolved administrations had already committed its budget either through the direct support or Pillar 2 funding.
He said: "Making any retrospective adjustment when it's already spent is obviously very difficult, so we set the review to consider spending after 2020, after the current CAP round has concluded."
nnicolson@thecourier.co.uk