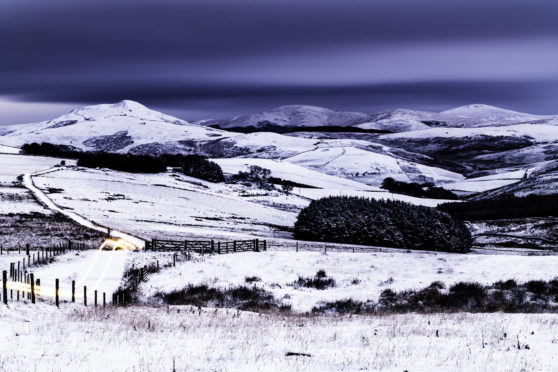 Forestry investors are pricing farm buyers out of the market for hill and marginal land, according to the latest farmland review.
The annual market report from land agents Strutt & Parker reports foresters bidding "ferociously" and paying up to £2,000 per acre for hill and marginal land – values that are several times their agricultural value.
Prices are also affecting the volume of hill farms which have come on the market, with 26 sales recorded in 2018 compared to seven in 2017 and nine in 2016.
According to Strutt & Parker's forestry division, John Clegg & Co, Scotland retained its dominant position in the commercial forestry marketplace with 69% of the sales recorded in 2018.
The company's Farmland Market Review 2019 states this rise in demand for hill farms and bare land with the potential for afforestation was the biggest change in the farmland sales market last year.
Their research also found that more land came to the market in Scotland than at any other time in the last 10 years, with 120 farms marketed in 2018, up from 81 in 2017.
Almost a third of the farms marketed last year were arable units and a fifth of those included prime soils.
Agricultural demand was strongest for prime arable units and units with diversified income streams.
Farms in Angus hit the top prices at up to £17,000/acre and in East Lothian the top price recorded was £14,600/acre – figures which bring prime Scottish farmland in line with prices paid in England.
The review reports a limited supply of large farms with 23 farms (19%) larger than 500 acres and just five farms over 1,000 acres. Most sales were the result of a competitive closing date.
The company's head of estate and farm sales in Scotland, Robert McCulloch, said the main driver for selling was retirement.
He added: "Buyers varied depending on farm type but were predominantly local farmers, 'rollover buyers', English and Northern Irish farmers and forestry investors.
"The view that purchasers' money can go further north of the border and at this side of the Irish Sea continues to attract buyers from outside Scotland.
"We envisage that in 2019 the market will continue to be characterised by extremes, dictated by land type, flexibility of land use and geography.
"The increasing age of farmers and their desire to retire will support supply whilst demand will be underpinned by scarcity of prime land and forestry investment opportunities."
nnicolson@thecourier.co.uk