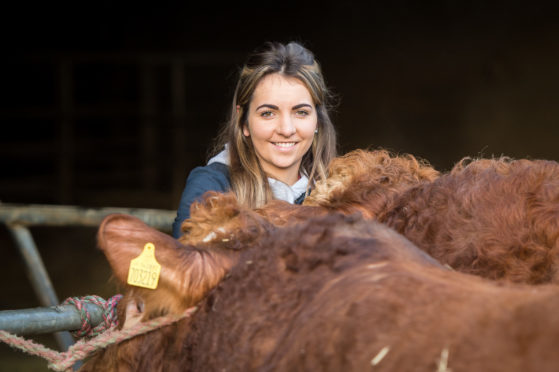 Not many young women, at the age of 24, have the opportunity to take on a herd of 250 pedigree cattle, but Stephanie Dick was born and brought up with the Ronick Limousin herd, based at Mains of Throsk, Stirling, and to her it was a natural progression.
While Stephanie and stockman Stewart Bett manage the herd on a day-to-day basis, there is still plenty of input from the two previous generations; namely dad, Ronald and grandad, David, who are proud of Stephanie's achievements.
The Ronick herd was founded in 1979 with the purchase of Fingask Natalie and her calf, which Ronald had saved all his pocket money to buy, but it was Broadmeadows Ainsi, bought by David for 8,200gns in 1988, to which many of the current females can be traced.
There are now around 250 cows in the herd plus 80 cross cows, some of which are used as recipients and Stephanie is happy that the herd has developed a consistency of type.
She said: "We like to breed for size and power but we don't want anything too extreme."
She admits that the type of bulls produced at Throsk are more suited to the Stirling sales than Carlisle, and they have done well at their local market over the years. In October 2017, they topped the sale with Ronick McKinley at 11,000gns, while Ronick Moose was champion.
Very influential on the herd in the early days was a French bull called Talent, which was overall champion at the Royal Show in 1988.
However, Broadmeadows Cannon (out of Ainsi) sired Ronick Hawk sold to Genus in 1994 and is described by the company as "quite possibly the best-ever sire to grace our Limousin stud".
Hawk sired more than 300,000 progeny in his lifetime.
Stephanie pointed out that the herd is better known for females rather than bulls.
In 1999, they sold Ronick McAinsi for a new world record for a maiden heifer of 28,000gns at the Red Ladies sale.
More recently in 2013 they sold Ronick Honey, a daughter of the 17,000gns Rathconville Eugene, for 20,000gns also at the Red Ladies sale.
Now it is 45,000gns Ampertaine Jamboree which is putting his mark on the herd and his sons are among the eight bulls heading to Stirling next week.
Not content with helping with the Ronick cattle, Stephanie also has three pedigree herds of her own.
She has 12 Limousin females under the Stephick prefix, with the star being the 14-year-old Ronick Voici out of the prolific show cow Ronick Janita. She bred Stephick Mystique, which was reserve champion at the Great Yorkshire last year.
She reckons she gets her love of showing cattle from her grandad. David produced Broadmeadows Ainsi to win the interbreed championship at the Royal Show, the first Limousin to do so.
Stephanie has three British Blue cows and has sold bulls to 6,500gns, and she is currently building up an Aberdeen Angus herd.
She said: "Limousin will always be my favourites but I love showing the Anguses and I would like to build the herd until it is worthwhile having a bull of my own."