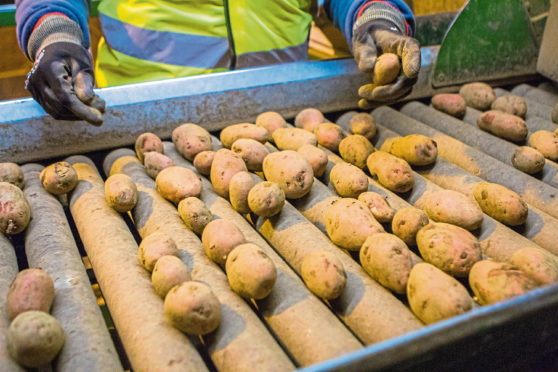 Potato sector officials say they're working together to make sure key seed potato buyers in countries such as Egypt, Morocco and Israel, get the right post-Brexit messages concerning product standards and quality.
While customers in these countries choose British seed potatoes for various reasons, their number one buying criteria is the quality of UK produce, according to Sandy McGowan, from Fife-based Cygnet PB.
He said: "We're an island nation, producing most of our seed potatoes for export in the north of Scotland. This means our disease pressure is lower, our bacteria issues are less and we have expert knowledge and logistics for our Scottish and English growers to call on."
Mr McGowan was speaking after the Fruit Logistica event in Berlin where the main post-Brexit message from growers was that they urgently need political certainty from the UK Government.
This point was picked up by Rob Burns, head of crop trade market development at Agriculture and Horticulture Development Board (AHDB, who ran a British pavilion at the Berlin event.
He said: "Countries such as Egypt, Morocco and Israel are some of the largest importers of British seed potatoes. As a result, AHDB, along with Scottish Government and industry, have to ensure the high health and quality of GB seed is appreciated by government and plant health officials in those markets, so that we continue to be their favoured supplier.
"That's why we're to host delegations from countries like Egypt, so they can see the crop in the field, meet our exporters, visit Science and Advice for Scottish Agriculture, and get an in-depth understanding of our industry's commitment to quality."
He said one of the main concerns at the event surrounded exports, with many UK growers and seed producers "questioning what the future holds for the industry" once the UK leaves the EU.