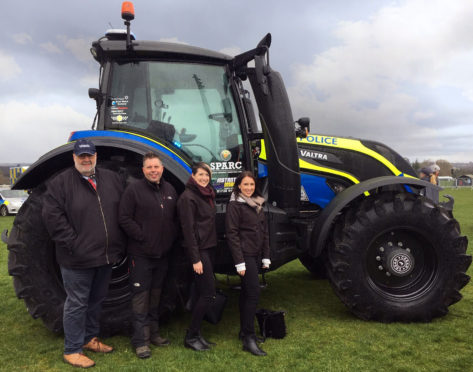 An agricultural machinery dealership has thrown its weight behind the campaign to raise awareness of the crime wave sweeping parts of rural Scotland.
Last month a leading farmer described Fife as the rural crime capital of Scotland and warned the spate of tractor thefts in the area by organised criminal gangs had the potential to escalate into a "danger to life and limb".
In a bid to raise awareness of the problem the Scottish Partnership Against Rural Crime (SPARC) has branded a Valtra tractor with SPARC and police logos before sending it on a tour of 30 of this year's agricultural shows.
The Hamilton Ross Group supplied the tractor and the company's managing director, Eric Gardiner, said as local dealers they saw first-hand the impact rural crime has on customers. He added that modern day trackers, technology and policing meant they also saw the opportunity to help prevent rural crime.
"That's why we are delighted to support SPARC," he said.
The creation of the branded tractor follows the popularity of a similarly branded tractor at last year's Royal Highland Show. The tractor helped open discussion with the public and those within the agricultural industry.
Alan Dron, the rural crime coordinator for SPARC, said attending agricultural events was just one way the group would be engaging with people.
He added: "A key aspect of SPARC is to build confidence and trust among those living, working and enjoying rural communities that any crime related issues affecting them are taken seriously, acted upon and understood."
SPARC is made up of partners from across the rural community, including Police Scotland, NFU Scotland, Scottish Land and Estates and NFU Mutual.
nnicolson@thecourier.co.uk