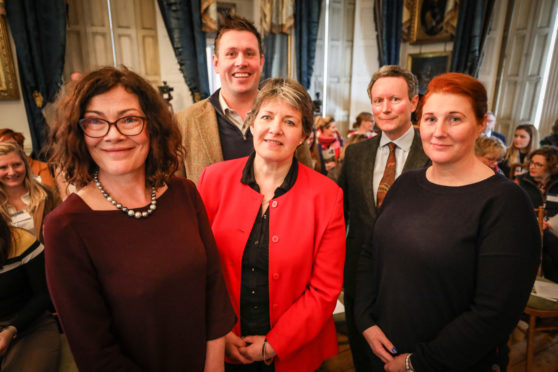 Agri-businesswomen who are contemplating new farm diversification projects have been given advice on branding, marketing and ensuring their voices are heard.
Professor Sally Shortall from Newcastle University told delegates at the Women in Agriculture Scotland spring conference they needed to identify their skills and abilities then turn them into a diversification.
Prof Shortall, who led a Scottish Government research project on women's role in agriculture, said 29% of respondents to a survey expressed an interest in diversifying, and further findings revealed the approach of women to diversification was often different to that of men.
"They prefer a smaller-scale diversification enterprise because they want to combine it with other commitments, and it's important that we don't regard small scale as unsuccessful, because it can be very successful," she said.
"People in the industry know women are an underutilised resource. They are crucial at being catalysts for change, and the industry is still trying to figure out how to get at them."
The sell-out event was hosted by Lord Charles Bruce at historic Broomhall House near Dunfermline. He told the mainly female audience that his family had been "well represented" by strong women over the ages and described how he has diversified the traditional estate by opening the mansion house for bespoke events.
Just three years after being launched, Lord Bruce said the new enterprise was at the cutting edge of Scottish tourism.
"A branding exercise suggested we had to occupy a slightly rarefied part of the market and the visitor experience should be comparable to that found anywhere in the world," he said.
"We already have 55 bookings for tours this year, and there is great interest from North America and China."
More advice on diversification marketing came from Kirkcaldy buffalo farmer Steven Mitchell who emphasised the importance of getting the brand right from the very beginning.
"When I started my uncle had the Puddledub Pork brand and was keen to support me so I used the Puddledub name, but as our businesses have grown it became confusing and muddling for customers – it was a mistake," he said.
"I renamed it The Buffalo Farm, which was hard to do when it was already started."
Mr Mitchell, who now runs 400 buffalo and employs 30 full-time staff in a multi-diversified business, also encouraged delegates to enter awards schemes.
He said: "It's not about vanity but about building credibility and brand recognition, so try whenever possible to apply."
nnicolson@thecourier.co.uk