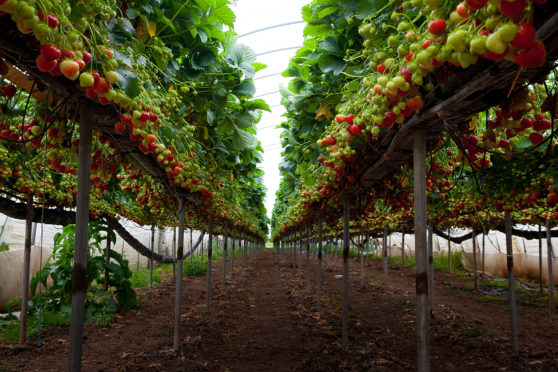 Soft fruit growers look set to benefit from new commercial-scale water saving research which is being developed to improve precision irrigation and fertigation techniques.
Farm levy board AHDB has announced it is to co-fund the Water Efficient Technologies (WET) Centre, which aims to accelerate the uptake of innovation and research by demonstrating the commercial value added to the soft fruit industry.
AHDB says irrigation techniques partly developed by the WET Centre have already reduced water and fertiliser use by 30% while maintaining and even improving fruit yields and quality.
This new collaboration will also share knowledge about growing systems, crop protection, labour saving and other new technology.
Commercial strawberry growers who have already had success working with the WET Centre include Stephen McGuffie of New Farm Produce in Staffordshire.
He welcomed the AHDB's input which he said would ensure that much of the levy-funded research would be put into practice on a demonstration site, on show to the whole industry.
Mr McGuffie has benefited from the irrigation best practice developed at WET and has also adopted NIAB EMR's Precision Irrigation Package (PIP), which manages the irrigation and fertigation of bag-grown strawberry crops.
He said: "I can rely on the PIP system to look after my irrigation 24 hours a day, providing me with peace of mind that my crop is being well irrigated.
"This helps me considerably, as we spend less time manually monitoring the system, saving further on cost."
The WET Centre will be part of AHDB's Farm Excellence programme and growers will have access to crop-specific workshops, training and one-to-one technical support to enable them to adopt new technologies.
nnicolson@thecourier.co.uk