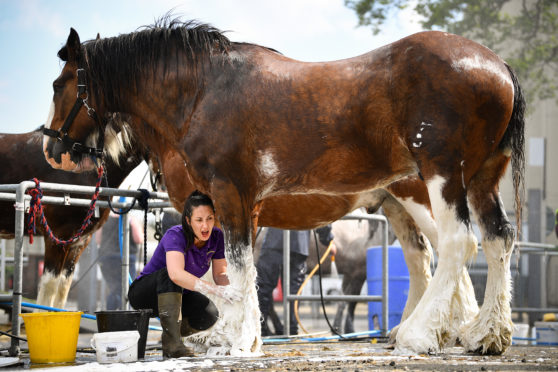 As the cream of Scotland's livestock goes on parade at Ingliston, the Royal Highland Show's main sponsors have called on farmers to examine the opportunities for land outwith traditional agriculture.
Royal Bank of Scotland (RBS) agriculture director Roddy McLean told an eve-of-show press conference farmers need to look critically at their businesses and consider ways of generating other income streams.
"There are opportunities in water and flood management, carbon storage and renewable energy, producing non-food crops and providing access for recreation in its widest sense," said Mr McLean.
"We're also likely to see further activity in active land and ecosystem management. We're already seeing water companies being early adopters for ecosystem services as they've worked out it's more cost effective to avoid pollution rather than having it come down to water treatment plants.
"There's also some instances of insurers looking to reduce exposure to flood plains by investing in water management practices upstream, and some health providers are looking to avoid the costs of acute mental health by encouraging self-healing in green space.
"All of these could provide an upturn to farm businesses."
Mr McLean acknowledged that for many farmers the appropriate approach to the future will be to concentrate on agriculture. However, he insisted it was vital for all businesses to be tested for resilience and sustainability.
Turning to the industry's most pressing challenge of Brexit and fears of a no deal scenario, Mr McLean guaranteed his bank would put support measures in place to help producers through any crisis.
"We did it in 2012 when there was wet weather and in 2015-16 when the milk price crashed, and if we see something like that happening we'll be fast out of the blocks to give our customers the confidence to go forward," he said.
On specific fears over a no deal at the end of October when lamb marketing is at its height, he suggested sheep farmers should prepare to beat the deadline.
He added: "We've had good weather this spring and lambs are coming forward. It would seem sensible to me for farmers to push as fast as they can to try to avoid (the end of October)."
nnicolson@thecourier.co.uk